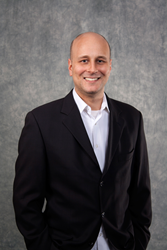 We are delighted with Jim's achievement and excited to bring his level of experience to our corporate family.
CHICAGO, ILL (PRWEB) March 15, 2016
Draper and Kramer announced today that James Love has been promoted to the position of vice president of marketing for the Chicago-based real estate services firm.
"We are delighted with Jim's achievement and excited to bring his level of experience to our corporate family in his new role as vice president of marketing," said Forrest Bailey, president and CEO of Draper and Kramer. "Jim previously worked for us in our residential mortgage business,1st Advantage Mortgage, for nearly eight years where he developed and managed an award-winning creative program and team."
At Draper and Kramer, Love will oversee brand strategy, management and continuity, as well as asset websites, social media and collateral marketing materials. He will also be working closely with the firm's communications, human resources and IT departments on a wide variety of projects.
Prior to his role at 1st Advantage Mortgage, Love had 17 years of professional management experience with Citigroup and The Home Depot where he was responsible for inbound and outbound marketing strategies and traditional, digital and social media communications.
After graduating from the University of Illinois at Urbana Champaign, Love founded and ran his own production company, producing commercial and industrial communications for several Fortune 500 companies, as well as independently producing two feature-length motion pictures and a television series.
###
About Draper and Kramer
Draper and Kramer, Incorporated is a vertically integrated property and financial services company led by President and Chief Executive Officer, Forrest D. Bailey, and headquartered in Chicago, Illinois. Primary services offered include management of multi-family residential, both rental and condominium, and commercial properties including, office, industrial and retail property types, arranging debt and equity financing for commercial property, residential mortgage banking dba 1st Advantage Mortgage, acquisitions and development. Draper and Kramer provides a single source of real estate-related counsel to a diverse group of investors in real estate across the U.S: corporations, private and institutional owners and users of real estate government agencies, condominium associations and foundations. For more information, visit http://www.draperandkramer.com.