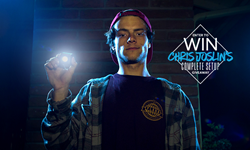 I always go skate at night but the darkness has always made it tough to see and to film. But now, with the help of these Lume Cubes I can hit any spot, any time!'
San Diego, California (PRWEB) March 03, 2016
Lume Cube is excited to announce its partnership with Hawaiian Gardens, California native and skateboard newcomer Chris Joslin. Like Lume Cube, 2015 was a breakout year for Chris, turning Pro for Plan B Skateboards and Etnie's shoes. During his debut year, Chris was a frontrunner to win multiple awards including Thrasher Magazine's "Skater of The Year". Chris, known for his hard charging style and fearless approach, has already produced some of the most progressive video parts including his break out part in Plan B's TRUE, Venture, No Hope and The countless edits on The Berrics. You can also follow Chris on Instagram at Chrisjoslin_ if you want to keep up with his endless updates of raw, high impact footage. Chris also just received the prestigious nomination to compete in the 2016 Street League Skateboarding (SLS) tour. Chris's modest roots, passion for skateboarding and sheer talent make him a fan favorite among skateboarders with an undeniably bright future for the skateboarding world.
"We are extremely excited to welcome Chris Joslin to the Lume Cube family. Chris's relentless drive and unquestioned talent illuminate his path to a great future." said Lume Cube CEO Mornee Sherry. "The synergy between Lume Cube and Chris is undeniable, forming a relationship primed to take this industry by storm."
When asked about the new partnership with Lume Cube, Chris stated 'I'm super stoked to now be a part of the Lume Cube team. I always go skate at night but the darkness has always made it tough to see and to film. But now, with the help of these Lume Cubes I can hit any spot, any time!'
Chris and Lume Cube connect with the hope to grow together, taking the quality of skate content creation to the next level. Lume Cube and Chris recently teamed up with Red Bull athlete, Lume Cube rider and TV personality Ryan Sheckler to film a new Lume Cube video part (https://youtu.be/ttf7aOzicB4) produced by Erik Bragg. Chris can also be found regularly using Lume Cube in many of his Instagram clips and will continue using Lume Cubes deep into the night, adding to his already vast video library in the unending pursuit for the next best clip.
The first of its kind, Lume Cube is a powerful and ultra-portable lighting tool that will open new creative possibilities for photographers and videographers of any skill level. Controlled via a smartphone app on both iPhone and Android devices, the Lume Cube is built for those looking to get the most out of their GoPro's, smartphone cameras, action cams, traditional digital cameras and all other casual capture devices™.
To celebrate the beginning of this partnership, Lume Cube will be giving away two Lume Cubes with a GoPro Mounting bar, a "Lume Cube Swag Pack", a Plan B Chris Joslin signed deck with the complete skateboard set-up and a pair of brand new Chris Joslin Etnies Marana XT Shoes. The giveaway is free to enter and kicked off on March 1, running the entire month of March with the grand prize winner set to be selected at random on April 1, 2016.
About Lume Cube
Lume Cube (http://www.lumecube.com) is a San Diego based company revolutionizing the way people capture content. Creating intelligent solutions in the world of imagery and casual capture devices, Lume Cube is disrupting the status quo and has created the world's most captivating lighting device. From surfer to mountaineer, foodie to photographer and professional to consumer, the Lume Cube is a companion to all. Led by former tech executives, athletes and imagery specialists, Lume Cube was established in 2014 and will continue to lead the content creation market through forward thinking solutions. See More. Do More. Be More.