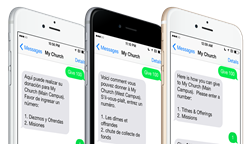 Our congregation loves Txt2Give. Four months later, we are still getting new givers. It's been excellent! ~Brandon Jesse Wave Church
Springfield, MO (PRWEB) March 04, 2016
Through a new relationship with a preferred payment processor, churches and faith-based nonprofits can benefit from a 1.75% credit card transaction rate average on all donations.
Other services competing with Txt2Give in the mobile donation space have rates from 2.5% and higher. With Txt2Give's new rates, more money can be directed back into ministry instead of to the credit card processor. Boyd says they'll be able to save each of the organizations thousands of dollars in processing fees over the course of a year, and even more over the lifetime of their account making Txt2Give the best option for churches looking to add text and online giving.
To learn more about Txt2Give's platform and new lower rates, visit txt2give.it.