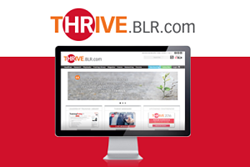 DANVERS, MA (PRWEB) March 03, 2016
BLR®-Business and Legal Resources, the leading provider of employment, safety and environmental compliance solutions, is pleased to announce the release of THRIVE.BLR.com, a new training and leadership development portal crafted for HR leaders to enhance their strategic competencies.
THRIVE.BLR.com addresses an emerging market need for products and solutions that nurture an increasingly strategic human resources profession. In today's business ecosystem, the C-suite is looking to HR for more contribution to holistic business initiatives, and HR leaders are eager to demonstrate their value by embracing cross-functional roles and participating in the shared decision-making.
"The strategic role of HR as a business partner is top of mind these days, but even when HR has a seat at the leadership table, it can sometimes be difficult for these professionals to get their voices heard by other executives," explains Patricia Trainor, vice president of content and product development for BLR's workforce division. "Our intention with the THRIVE.BLR.com offering is to give HR professionals the cutting-edge research, training and peer community they need to propel HR to the forefront of the leadership team. They will have access to comprehensive research, playbooks, online training, conferences, networking, and free HRCI business accredited webinars so they can more easily maintain their SPHR credential."
As part of their introductory offer, THRIVE.BLR.com is priced competitively at 88% off the retail value of comprised products. The offering includes:

Access to the online Leadership Training for Managers and Supervisors Library
6 HRCI business accredited webinars on key HR topics
4 comprehensive playbooks for the HR leader
6 premium research reports from the HR Daily Advisor Research Team
A complimentary subscription to HR Decisions Magazine
50% off registration for the THRIVE Annual Conference in May 2016
Discounts on all BLR live events
Exclusive networking communities and discussion forums
For more information, please visit http://thrive.blr.com.
About BLR®
BLR®—Business & Legal Resources helps U.S. businesses simplify compliance with state and federal legal requirements, and help them become more successful. They do this by offering authoritative content and practical, easy-to-use tools. Through their expert in-house editors and exclusive attorney network, they provide the most comprehensive, reliable state-specific information available—and do it in all 50 states. Their award-winning information products—including training programs, events, web portals, reports and subscription services—give businesses of all sizes and industries the best tools available at affordable prices. Connect with the organization at: https://www.linkedin.com/groups/2174166/profile