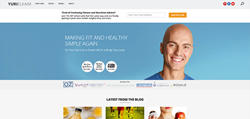 Brad and his team has been working for us over the past 3 years. His knowledge and expertise have been essential in creating a great experience for our customers. - Yuri Elkaim
Hamilton, Oh (PRWEB) March 03, 2016
In March of 2011, Brad Kuntz, an online entrepreneur specializing in WordPress design made the keen realization that most eCommerce marketers and online entrepreneurs share the same problem. They lack the design expertise and business savvy to successfully compete in the world of online business - which requires an explicit understanding of market niche, brand identity, visual impact and platform function. This inspired the creation of Pressed Solutions, a comprehensive WordPress design and development service aimed at helping health, fitness and wellness entrepreneurs to identify their audience, drive traffic to their website and turn visitors into customers. This is done through well-designed pages containing compelling images, subscriber list-building software and effective sales funnel copy.
Built from the Ground Up
Pressed Solutions has steadily grown each year into a team of a dozen professionals - six developers, four designers and two marketing experts. Their services consist of a comprehensive list of specialties that have one overall purpose: to help independent online marketers succeed through affordably priced yet highly valuable WordPress design services.
This business plan means that a health professional with a specialized product or service to market can get into eCommerce business for an affordable price. "Our mission is to help 'healthpreneurs' - Health Entrepreneurs, succeed, grow and ultimately help more people" - Brad Kuntz.
Help for Determined Entrepreneurs
An example client such as 'Jill the Health and Fitness Entrepreneur' has developed a diet and exercise plan specifically designed to benefit women who have recently given birth. Although Jill has zero experience designing websites, writing sales copy, creating logos or establishing and building her brand, she can quickly become an online startup through Pressed Solutions for under $40 per month.
A Comprehensive System of Success-Minded Protocols
This means that the Pressed Solutions team will help Jill find a WordPress design that fits her style, to develop a company logo that fits her message, to target her audience and begin driving traffic to her website and to convert that traffic into sales through carefully designed sales funnel copy and imaging. This way, Jill's energy can be dedicated to fulfilling orders and developing new products to sell, rather than getting bogged down trying to learn a whole new skill set she may not even have an aptitude for.
An Impressive Client List
Pressed Solutions has forged a name for themselves in the health, wellness and fitness industry - which is a tight-knit world of intense entrepreneurs who value integrity. Pressed Solutions has launched the successful online presence of respected industry experts such as Yuri Elkaim, Dr. Peter Osborne, Dr. Sachin Patel, Dr. Jonathan Tait, Dr. John Beech, Dr. Manish Ghei and Paula Owens while helping build brands like the Functional Health Summit, Paleohacks and The Pain-Free Diet.
Anyone Can Succeed Online with the Right Tools
The Pressed Solutions platform allows visitors to get into quick contact with one of the team's developers to answer questions and get the process moving forward with free WordPress design quotes based on specific needs. The site also offers a free service that "grades" a potential client's existing website and lets them know exactly why and where it is not performing and what steps are needed to get it fixed. This is why satisfied health entrepreneur Jen Broyles was compelled to offer her testimonial, "... my website was a mess. I was constantly having to hire people to fix formatting, shopping cart, and upgrade issues. They completely rebuilt my website."
New Talent for a Growing Team
Continued growth for Pressed Solutions means adding more skilled individuals to the talent roster. Developers and designers who value the entrepreneurial spirit as well as quality service and workmanship are encouraged to contact the company to learn more.
To celebrate with us and to enter for a chance to receive a website design at no cost, please fill out the form here.