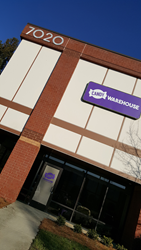 The new warehouse makes it possible for us to get our unique candy to people faster—and cheaper—than ever before.
Charlotte, NC (PRWEB) March 02, 2016
CandyWarehouse announced this week it is now offering 2-day ground shipping to 80% of the contiguous United States, drastically reducing the cost of its overall shipping for customers across the country. This development coincides with the online candy retailer's acquisition of a new warehouse in Charlotte, North Carolina, expanding its coverage from coast to coast, with its original Los Angeles area warehouse continuing to handle shipments for the western USA. The new warehouse is temperature and humidity controlled, which is important for keeping the candy at its freshest until ready to ship. CandyWarehouse does not use third-party drop shippers like some of their competitors; they control the process from the manufacturer to the customer's doorstep.
"We knew we wanted to make shipping easier on our customers," said Murray Slenn, Director of Operations. "We were excited to find a location in Charlotte. It's a wonderful city and a great place to do business. With a distribution center on each coast, we're able to ship candy almost anywhere in just two days. That means our customers can get their candy right when they need it, without paying extra for expedited shipping. This will save them a lot of money at checkout."
Shoppers have continued to flock to CandyWarehouse.com since it was founded back in 1998. Drawn to its expansive selection of candy products—over 7,000 items in total—customers are able to shop by color, brand, theme, and more. Their exclusive candy calculator makes it easy to figure out exactly how much candy to order for a specific candy dish or treat bag. All photography is produced in house, capturing the texture, size, and color of each product in exceptional detail. With 2-day ground shipping, CandyWarehouse now offers some of the fastest delivery times in the industry, rivaling if not outperforming the likes of Amazon, Oriental Trading, and Party City while providing a much wider selection of everyday and seasonal candy products.
"We never just wanted to sell candy," said Christopher Pratt, founder and CEO, who began the company eighteen years ago. "We wanted to become the candy experts, and we've spent the last eighteen years earning that reputation. We have one-of-a-kind products you won't find anywhere else, along with classics like M&M's and Hershey's Kisses, all in a huge variety of colors. The new warehouse makes it possible for us to get our unique candy to people faster—and cheaper—than ever before."
The faster shipping times will be especially important as the weather starts to warm up. Many of the company's heat-sensitive items like chocolate bars and gummy bears require fast delivery to prevent melting. The new 2 day ground shipping will ensure these items never remain in transit long enough to melt, even when they are shipped using standard ground.
"This should be good news for party and event planners who are already planning their candy buffets and dessert tables," says Pratt. "A lot of them are already shopping for spring weddings and summer parties. Now we'll be able to provide them with all the candy they need, right when they need it."
As of today, the new warehouse is fully staffed, operational and shipping to the entire eastern United States, extending the company's 2-day shipping to candy shoppers across the country.