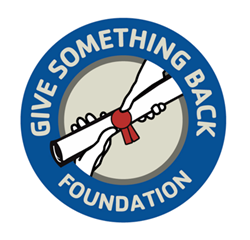 The Give Something Back Foundation is proud to partner with Northern Illinois University and provide a college education to Illinois students who may not otherwise have the opportunity
CHICAGO, Ill., (PRWEB) March 02, 2016
The Give Something Back Foundation(GSBF) today announced it will contribute $1 million to Northern Illinois University (NIU) to enable 50 Pell Grant-eligible students from Illinois high schools to attend NIU at no cost for tuition, room and board.
"The Give Something Back Foundation is proud to partner with Northern Illinois University and provide a college education to Illinois students who may not otherwise have the opportunity," said Robert O. Carr, founder and CEO of GSBF, and founder, chairman and CEO of Heartland Payment Systems, Inc. "We are growing our organization with partner universities and colleges to help students all across the country. We are honored to increase our growth in my home state of Illinois and through such a fine educational institution as NIU."
NIU joins a growing number of universities and colleges that collaborate with GSBF to provide students with scholarships for tuition, room and board, allowing them to graduate debt free and avoid costly student loans. GSBF has awarded more than 250 full scholarships in Illinois since its formation in 2003.
"This support will bring bright, talented first-generation students to Northern Illinois University and put them on the path to success as engaged citizens in their chosen careers," NIU President Douglas Baker said. "We are honored to receive such a generous gift that has the potential to positively affect so many young lives."
GSBF scholarships are not limited to first-generation students, though many Pell Grant- eligible students whose grades qualify for the program will be the first in their families to attend college.
"We are grateful to work with generous friends like Bob Carr who are invested in making an impact on the lives of students in need," said Catherine Squires, vice president for university advancement for NIU, and president and CEO of the NIU Foundation. "This partnership will help as we strive to make a Northern Illinois University education accessible to students from all walks of life."
Carr hopes students will be inspired to pay the favor forward. "We want to help students realize their full potential and encourage them to give back in the future through their time or money," he said.
In the spring, the foundation will begin the four-year process of selecting 50 Pell Grant-eligible ninth graders and pairing them with trained adult mentors for academic and life skills support throughout high school. The scholarship program requires that recipients maintain a 3.0 GPA, take college prep courses, and demonstrate admirable character. Upon high school graduation in 2019, these students must meet NIU's standard admissions requirements.
For more information about GSBF, visit givesomethingbackfoundation.org.
About Give Something Back Foundation
GSBF works with high school administrators and community leaders to select ninth graders who show academic promise and whose family income level qualifies them to receive a Federal Pell Grant.
The goal of GSBF is to help students who may not have considered college an achievable option to get the guidance they need to complete a college degree in four years, debt free.
GSBF pairs selected students with trained adult mentors who support the students through the challenges of high school years at home and in the classroom, thus preparing them for the rigors of a four-year college education. Mentors help students navigate the process of college admissions and GSBF provides its high school graduates with a scholarship for tuition, room and board at one of its partner universities and colleges.
Visit GSBF at: Facebook, Twitter and LinkedIn.
About Robert Carr
While a student growing up in Lockport, Ill., Carr received a $250 scholarship from the Lockport Woman's Club that helped him to attend the University of Illinois-Champaign/Urbana. Carr was so inspired and appreciative of this gesture that he vowed then to give back to other college students and has done so through GSBF.
Carr's business successes include Heartland Payment Systems, a Fortune 1000 company that today employs more than 4,600 as one of the largest payment processors in the United States. Heartland's clients range from major retail chains to restaurants to mom-and-pop stores and websites to colleges and school districts in some of America's largest cities.
In an age of increasing cyber assaults, Carr led Heartland to become a gold standard in security strategy. After a remarkable recovery from a 2008 international hacking conspiracy, Heartland emerged as a champion in the fight against cybercrime.
On Dec. 15, 2015, Global Payments Inc., an Atlanta-based worldwide provider of payment technology services, announced it has entered into a definitive agreement to acquire Heartland for $4.3 billion.
Carr is the co-author of "Through the Fires: An American Story of Turbulence, Business Triumph and Giving Back" (Amazon, 2014) and is currently working on a second book focused on helping young, working-class people attend college without incurring debt.
Visit Bob Carr at: Facebook, Twitter, LinkedIn.
About NIU and the NIU Foundation
Northern Illinois University is a comprehensive teaching and research institution with a diverse and international student body of about 20,000. Located near a vibrant research and development corridor, NIU's main DeKalb campus is 65 miles west of Chicago and 45 miles southeast of Rockford, Ill.
NIU provides more than 60 undergraduate majors and 100 graduate- and doctoral- level programs in seven colleges: Business, Education, Engineering and Engineering Technology, Health and Human Sciences, Law, Liberal Arts and Sciences, and Visual and Performing Arts.
The mission of the NIU Foundation is to energize and connect the private sector with the NIU community to secure and steward resources that support the future and growth of NIU.
 
To learn more about the NIU Foundation, visit niufoundation.org.