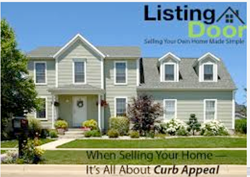 The notion that buyers and sellers are not smart enough to understand the process is absurd.
Houston, Texas (PRWEB) March 08, 2016
Realtor Sissy Lappin is making waves in the real estate industry with her web-based service ListingDoor.com, a site that takes a new approach to the for sale by owner (FSBO) market. Committed to shedding old stereotypes of FSBO services targeting foreclosure properties and believing that anyone, no matter how inexperienced, can sell their own home and pocket the hefty commission they would otherwise pay a real estate agent, Lappin is a woman on a mission to change the way people sell their homes.
At a time when baby boomers and seniors are concerned about retirement and looking to save money wherever they can, the major asset most people have is their home. Lappin says that for the average home seller, paying a real estate agent's commission means a 40 to 60 percent loss in equity—money that could be well used in their own bank account.
ListingDoor.com provides sellers with all the tools they need to sell their own homes. Offering FSBO tool packages starting at $79, ListingDoor.com's pro package provides a professional real estate photographer to take high quality images of the home, a professional real estate writer to create descriptive advertising content, and other tools that help attract buyers—something Lappin says no other FSBO service and few agents offer.
"I know from experience that in order to get top dollar for a home, sellers need more than a cheesy sign with their phone number written on it with a sharpie, which is what many FSBO services offer," Lappin says. "Sellers need professional photographs, quality yard sign and brochures, a mobile website customized to their home and other professional tools."
The ListingDoor.com website uses drag and drop technology for ease of use in making professional quality promotional brochures, and a complete IntelReport—a ListingDoor perk that provides detailed information on comparable sales in the seller's neighborhood, including how long comparable homes took to sell, all formatted in an easy-to-read report.
ListingDoor.com also provides a worksheet for sellers to use for guidance in pricing their homes, similar to the process professional appraisers use to determine a home's value. According to Lappin, anyone can price their own home.
Lappin says that a number of homeowners have used ListingDoor.com to sell their homes successfully, and she has amassed a pile of emails from grateful sellers to prove it. She has worked with FSBO sellers whose homes are valued at anywhere between $100,000 and $2 million, which she says proves that anyone can and should sell DIY.
"All they needed was to be shown the process and given a great set of tools," Lappin says. "They can be ready to sell within a few days because ListingDoor.com feeds into the Fed Ex office, so sellers can receive their FSBO package typically with in 48 hours of ordering."
Lappin, whose own real estate company is a top one percent brokerage firm in the U.S., says she knows what she is talking about. In fact, she wrote a book about FSBO called "Simple and SOLD," a guidebook that complements the ListingDoor.com platform.
According to Lappin, the real estate industry itself has operated in secrecy and mystery for too long, guarding MLS lists and comparable sales "like the formula for Coca Cola," and keeping interaction between buyers and sellers at a minimum at best.
Today, MLS alternative sites like Zillow, Trulia, and Yahoo! Home have changed the real estate industry to one of inclusion, in which both buyers and sellers have access to information that empowers them to make the best decisions when it comes to buying or selling a home.
"Sellers have been brainwashed into thinking that they need a middleman, but now the process has more transparency," she says. "The notion that buyers and sellers are not smart enough to understand the process is absurd—the problem was that the process was guarded and not transparent."
To learn more about Lappin's FSBO strategies, visit the Listing Door website, email Sissy(at)listingdoor(dot)com or call 713-922-0602.
About ListingDoor.com:
Founded in 2014 ListingDoor.com is a website that showcases Lappin's innovative FSBO strategies and makes them available to the public. ListingDoor.com earned recognition from Forbes Magazine in Dec. 2014 when it was named a top contender to become "The Next Uber" for real estate sales. Lappin's Book, "Simple and Sold," achieved #1 Bestseller status on Amazon.com, and is available as a no-cost Kindle download.
ListingDoor.com aims to set new standards for the real estate industry by providing a smart, cost-effective alternatives to traditional home sale strategies that allow homeowners to decide on the best approach for selling their homes.
###