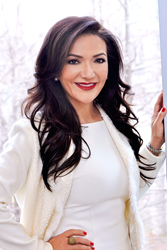 Dallas, Texas (PRWEB) March 02, 2016
Nina Vaca, Chairman and CEO of Pinnacle Group, has been selected as a 2016 winner of the Enterprising Women of the Year Award by Enterprising Women Magazine, an annual tribute to the world's top women entrepreneurs. The annual Enterprising Women of the Year Awards is widely considered one of the most prestigious recognition programs for women business owners. To win, nominees must demonstrate that they have fast-growth businesses, mentor or actively support other women and girls involved in entrepreneurship, and stand out as leaders in their communities. Many of the honorees also serve as leaders of the key organizations that support the growth of women's entrepreneurship.
Vaca, a winner in the category for annual sales revenues of more than $100 million, is being recognized for her leadership of Pinnacle Group, a workforce solutions company headquartered in Dallas, Texas. Vaca has been Chairman and CEO of Pinnacle Group for nearly 20 years, growing the company from its initial $300 capital contribution to the powerhouse it is today. In 2015, Pinnacle Group generated over $1 billion in gross revenues, making it one of the largest Latina-owned businesses in the United States, and America's fastest growing women-owned enterprise according to the Women Presidents' Organization (WPO).
"It is an honor to receive this award from a publication that has served as a leading voice for women entrepreneurs for many years," said Vaca. "I'm humbled to be recognized alongside past honorees, women who have inspired me on my journey and for whom I share a deep mutual respect and admiration. Many of us began our business with different origin stories and represent diverse industries, but our shared story as enterprising women gives us a common cause: to ensure women around the world -- regardless of circumstance -- have the opportunity to aspire and go as far as their talents take them. I thank Monica Smiley for this award, and pledge to use this accolade as a personal challenge to continue mentoring and supporting the next generation of enterprising women."
In addition to founding and leading Pinnacle Group, Vaca is an active philanthropist and community leader. She is a Presidential Ambassador for Global Entrepreneurship (PAGE), appointed by the President of the United States to represent our nation's business values abroad and help spur economic opportunities in developing countries. Vaca is also Chairman Emeritus of the U.S. Hispanic Chamber of Commerce (USHCC) and serves as Chairman of the USHCC Foundation. She is a director on the boards of Comerica Bank, Kohl's Corporation, and Cinemark, and continues to advocate for more representation of women in corporate leadership through the At the Table initiative she founded with the USHCC Foundation. For more information on the At the Table Initiative, visit http://www.ushccfoundation.org/at-the-table.
"The recipients of the 2016 Enterprising Women of the Year Award represent an amazing group of women entrepreneurs from across the United States and as far away as China, Egypt, South Africa, Uganda, the United Kingdom and Portugal. We could not be more proud to recognize Nina Vaca this year, not only as the owner of the fastest growing women-owned business in America, but also as a community leader, role model and mentor to other women and girls. We look forward to shining the spotlight on her and her fellow winners at our 14th annual awards event in late February," Monica Smiley, Publisher/CEO of Enterprising Women, said.
The award was presented on March 1, 2016 during the 14th Annual Enterprising Women of the Year Award Celebration in Miami, Florida.