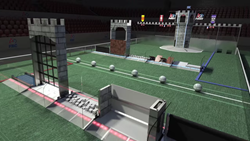 Southfield, MI (PRWEB) March 03, 2016
RoboZone, the country's first and only TV series featuring competitive robotics technology at the high school level, will begin its second season on March 6 and will be broadcast to viewers across the state of Michigan.
The show will now be part of the hour-long State Champs! High School Sports Show, airing Sundays at 9:30 a.m. with rebroadcasts during the week. State Champs! Network produces both programs.
In 2016, RoboZone's sponsors include FIRST in Michigan, Lawrence Technological University, Ford, Consumers Energy, Fanuc and Fiat Chrysler Automotive.
The eight episodes of RoboZone's second season will cover the entire FIRST in Michigan, FIRST Robotics Competition (FRC) district competitions throughout the state. Episodes will highlight teams that have designed, built, programmed and operate robotic devices in competitive events. The robotics game challenge changes every year, requiring teams to create custom robots every season.
This year's game is called First Stronghold, featuring robotic catapults, battering rams and climbing robots.
The series will also include a 60-minute episode covering the 2016 Michigan State Championships held at DeltaPlex Arena in Grand Rapids.
Segments of each RoboZone show will feature event highlights, reports on rankings, and interviews with participants, coaches, mentors and other insiders.
"Competitive robotics provides a unique opportunity for students interested in science, engineering, and other technological disciplines to showcase their skills in a highly entertaining environment," said Lou Bitonti, president of State Champs Network.
More information on RoboZone is available at http://www.RoboZoneTV.com, RoboZone on Twitter: @RoboZoneShow, and on Facebook by searching "RoboZone Show"
FIRST Robotics Competition is an international high school robotics competition, founded in 1989 by inventor and entrepreneur Dean Kamen.
In 2015, 2904 teams with roughly 73,000 students and 17,500 mentors from 19 countries participated, including more than 415 teams from across the state of Michigan.
STATE CHAMPS! High School Sports Show, provides a comprehensive look at the athletic events, lives and accomplishments of Michigan's high school athletes. The show provides highlights and game recaps, and includes in-depth features on standout high school programs, outstanding student athletes, coaching excellence, and statewide sports contests and awards including Mr. Football, Mr. and Ms. Hockey and can be viewed at http://www.StateChampsNetwork.com
Contact: Ryan Terpstra, Executive Producer: 616-822-6917