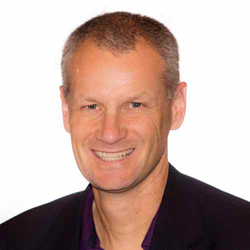 Yorba Linda, CA (PRWEB) March 08, 2016
The field of laboratory medicine is evolving and dynamic, with the advent of new technologies, expanded testing options, and growing workflow. Laboratory professionals need to adapt to these inevitable changes and others. Sometimes, overall success in the lab depends on intangibles.
Taking an outside-the-box approach, LabRoots, Inc will host Roche Diagnostics' LabLeaders Webinar Series in sponsoring an ACTIONSKETCHING + A Renown Leadership Expert = A More Impactful YOU, which will discuss key reasons why coaching is a vital component for a successful laboratory. The unique presentation will synthesize the spoken word into a visual "language" in real time, delivering coaching strategies relevant for any role attendees play in the lab environment.
Renown leadership expert Jeff Smith, CEO of Voltage Leadership Consulting joins designers from the Ink Factory Studio, known worldwide for its graphic recording and ActionSketch videos.
Jeff Smith, a former human resources and operations executive for for-profit and not-for-profit organizations, has been successful in cultivating others' leadership skills and maximizing their talents. He has served as an executive coach since 2001, and earned his professional coach certification through the International Coaching Federation. Jeff earned a master's degree in human resource development from George Washington University, graduated from Georgetown University with an executive coaching and leadership certificate, and became a fellow of the advisory board in 2006.
Ink Factory, which creatively collaborates with businesses around the globe, will create visual "experiences" during the webinar to inspire and engage attendees. While actively listening to the presentation and discussion, its designers will blend spoken words into illustrative text and hand-drawn visuals, which allow the content to bloom into a storyboard saturated with information. Graphic recording will add another dimension, thereby fostering a deeper understanding of the presentation.
The free webinar, hosted by LabRoots, will be presented on April 6, 2016, at 10 am Pacific Time/1 pm Eastern time and is complimentary for all LabLeaders members.
To register on LabLeaders, click here: https://usdiagnostics.roche.com/lableaders/registration.html
About LabLeaders:
LabLeaders is Roche's promise to empower laboratories and the people within them. This is done by providing clinical and strategic insights, support and solutions from the industry's top innovators through LabLeaders.com, LabLeaders Summits and the LabLeaders Webinar Series.
Visit LabLeaders.com, where cutting-edge solutions are never more than a click away.
About Roche
Headquartered in Basel, Switzerland, Roche is a leader in research-focused healthcare with combined strengths in pharmaceuticals and diagnostics. Roche is the world's largest biotech company, with truly differentiated medicines in oncology, immunology, infectious diseases, ophthalmology and neuroscience. Roche is also the world leader in in vitro diagnostics and tissue-based cancer diagnostics, and a frontrunner in diabetes management. Roche's personalised healthcare strategy aims at providing medicines and diagnostics that enable tangible improvements in the health, quality of life and survival of patients. Founded in 1896, Roche has been making important contributions to global health for more than a century. Twenty-four medicines developed by Roche are included in the World Health Organization Model Lists of Essential Medicines, among them life-saving antibiotics, antimalarials and chemotherapy.
In 2014, the Roche Group employed 88,500 people worldwide, invested 8.9 billion Swiss francs in R&D and posted sales of 47.5 billion Swiss francs. Genentech, in the United States, is a wholly owned member of the Roche Group. Roche is the majority shareholder in Chugai Pharmaceutical, Japan. For more information, please visit roche.com.
All trademarks used or mentioned in this release are protected by law.
About LabRoots:
LabRoots is the leading scientific social networking website and producer of educational virtual events and webinars. Contributing to the advancement of science through content sharing capabilities, LabRoots is a powerful advocate in amplifying global networks and communities. Founded in 2008, LabRoots emphasizes digital innovation in scientific collaboration and learning, and is a primary source for current scientific news, webinars, virtual conferences, and more. LabRoots has grown into the world's largest series of virtual events within the Life Sciences and Clinical Diagnostics community.