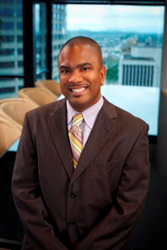 Nashville, TN (PRWEB) March 02, 2016
"There is nobody that I know of on any level that has been more involved in this community [Nashville] and more committed to making it better than James Crumlin" declares Bone McAllester Norton Chairman and founder, Charles W. Bone.
James has been an attorney at Bone McAllester Norton since 2002 where he dedicates his professional career to serving his clients and his community. As a lawyer, he concentrates his practice in the areas of labor and employment law, small business law and mid-size business representation, corporate business litigation and entertainment law. As a community advocate, he dedicates his time to leadership roles for several of Nashville's civic and charitable causes.
Serving as outside general counsel to small and midsize businesses, James also helps clients navigate the corporate legal landscape and avoid costly mistakes. His experience includes business formation and strategy, funding and investor relations, contracts, employment compliance issues, risk management, litigation and dispute resolution. His clients include a variety of Tennessee-based businesses, entrepreneurs and start-up ventures.
In addition to his legal work, James is very active in the Nashville community and a passionate non-profit supporter. In 2010, Governor Bredesen appointed James to the Tennessee Civil Service Commission. And in 2012, Governor Haslam selected him for the Board of Appeals for the Tennessee Department of Human Resources. Other organizations he serves or has served on the board include: Big Brothers Big Sisters of Middle Tennessee, Matthew Walker Comprehensive Health Center, Kelly Miller Smith Center Against Abuse Behavior, and American Baptist College. An active member of the Mt. Zion Baptist Church, he also serves as a trustee and was instrumental in the Project 2000 committee, which oversaw the construction of the church's $17 million facility. James is an avid runner who inspires others to pursue his or her fitness goals; having completed two marathons, 18 half-marathons, one Ironman triathlon and co-founder of the Capitol Steps Workout in downtown Nashville.
A native of Louisville, Kentucky and graduate of duPont Manual High School, James moved to Nashville to attend Vanderbilt University, receiving his B.A. in 1994 and his law degree in 1997.
About NLBA
The Napier-Looby Bar Association ("NLBA") is a bar association dedicated to the advancement and development of black attorneys as well as attorneys interested in issues affecting the black community. Its membership consists of attorneys, in the private and public sectors, as well as judges, law professors, law students, paralegals and other interested individuals. The NLBA provides a unique platform for professional development and legal education, networking, and strategy for law. It promotes the exchange of information between lawyers and legal associations, covering all areas of law and public and professional interests. For more information visit, napierlooby.com.
About Bone McAllester Norton PLLC
Bone McAllester Norton PLLC is a full-service law firm with 38 attorneys and offices in Nashville, Sumner and Williamson counties, Tennessee. Our attorneys focus on 18 distinct practice areas, providing the wide range of legal services ordinarily required by established and growing businesses and entrepreneurs. Among our practices, we represent clients in business and capital formation, mergers and acquisitions, securities matters, commercial lending and creditors' rights, commercial real estate and development, governmental regulatory matters, commercial litigation and dispute resolution, intellectual property strategy and enforcement, entertainment and environmental matters. Our client base reflects the firm's deep understanding and coverage of today's leading industry and business segments. For more information, visit http://www.bonelaw.com.