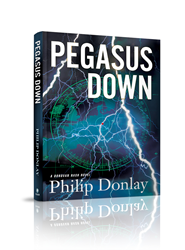 Donlay checks all the boxes of the genre: strong male lead (with an unlimited bank account, no less), capable friends with appropriate skills, and a lightning-fast pace
Longboat Key, FL (PRWEB) March 01, 2016
The Story:
A CIA-operated jet on a clandestine mission disappears in Eastern Europe. No mayday, no wreckage, and no known survivors. No way to know if the top-secret extraction of a key American scientist from Slovakia, or his liberator, Dr. Lauren McKenna, code name Pegasus, are dead or alive.
Donovan Nash's precarious world is rocked when word reaches him that his wife, Lauren, is missing in Eastern Europe. Using his millions, and fueled by the fear of losing his wife, Donovan and company cut a swath through Austria and Hungary. Desperate, Donovan leverages his lifelong secret to enlist an unlikely ally—one of his oldest friends—who may very well want him dead. As Donovan closes in on the truth, another, and more deadly, reality is revealed. A ruthless terrorist group has acquired a stealth aircraft with the ability to deliver a nuclear device. They are poised to strike—but where? What started as a rescue turns into a full-throttle aerial chase. Will Donavan be able to rescue his wife, as well as prevent a nuclear catastrophe?
Reviews:
"Donlay checks all the boxes of the genre: strong male lead (with an unlimited bank account, no less), capable friends with appropriate skills, and a lightning-fast pace. However, most of the characters are right out of central casting, and the excessive exposition can be jarring. Even so, Lauren is a standout, and she gives Nash a run for his money in smarts and determination; though Nash may be coming to her rescue, she doesn't need him to."
―Publishers Weekly
"Donovan Nash is back―and is he ever. In Aftershock, the latest thriller from Philip Donlay, Donovan must travel to the jungles of Guatemala to save a woman from his past who has been kidnapped by the vicious killer known as The Serpent. Tense action, crisp dialog, and cool high-tech toys drive the story. Oh, and there's even an erupting volcano. A great read."
―D. P. Lyle, award-winning author of the Dub Walker thriller series
"Fans of Michael Crichton will not want to miss Deadly Echoes. Well researched and supremely entertaining, Philip Donlay has knocked this one out of the park!"
―Ward Larsen, USA Today best-selling author of The Perfect Assassin
About the Author:
Philip Donlay learned to fly at age seventeen and was first published at eighteen. In the aviation world, success came quickly and he's been flying jets since he was twenty years old. Whether flying a Saudi sheik, nighttime freight, or executives of a Fortune 500 company, Donlay has logged over six million miles while spanning the globe. Donlay burst onto the literary scene in 2004 with the publication of his first novel, Category Five, followed by Code Black, Zero Separation, Deadly Echoes, Aftershock and Pegasus Down. He is an avid fly fisherman and divides his time between Montana and the Pacific Northwest.
You can find him at http://www.philipdonlay.com