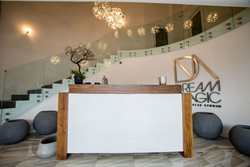 We are a one-stop facility—from pre- to post-production, everything that our clients need is housed in one location
Canoga Park, CA (PRWEB) March 03, 2016
Dream Magic Studios a state-of-the-art full service production facility is set to relaunch their new facility which opened last spring under new leadership. The studio which is equipped with top-tier talent, cutting-edge technology and commitment to excellence is now being led by Mr. Jared Murray-Bruce who operates as President and Head of Operations.
"Dream Magic Studios is a fun and energetic place to be. Creativity flourishes here with such a young and vibrant energy, that everyone seems to enjoy." says Murray-Bruce. "With companies such as Hartbeat Digital, an extension of Actor Kevin Hart's Hartbeat Productions and Lookhu, a new and exciting online video streaming service operating out of our 18,000 sf facility, makes us excited about our future growth and expansion in the U.S. Market."
An extension of Silverbird Group, a Nigerian based multi-media company; Dream Magic Studios currently has two production facilities located in Canoga Park – DMS I and DMS II. DMS I, an 18,000 square foot facility, serves as a full service production house that provides turn-key services and solutions. Services include high-tech recording, mixing and editing equipment, pre-lit cyclorama sound stages, offline and online editing, stage design as well as marketing services. The adjacent studio (DMS II) is a 22,000 sf facility that includes several stage sets designed by Central City Stages.
"We are a one-stop facility—from pre- to post-production, everything that our clients need is housed in one location. It is important to have companies like Central City Stages working out of our production facilities because they offer a valuable service to our clients" states Murray-Bruce. Central City Stages offers fully dressed Delivery E.R., O.R., I.C.U., Nurse Stations, costuming, props and equipment that are available for rent on and off-site.
The space is also available for photo shoots, events and private screenings in the studio's 26-seat theatre. An official launch event is scheduled for late March to premier the space.
For more information about Dream Magic Studios or to schedule a private tour, please contact: info(at)dreammagicstudiosla(dot)com or (818) 435-6708
About Dream Magic Studios
Dream Magic Studios (DMS) is a state-of-the art production facility located in Los Angeles, California. It is an extension of the Silverbird Group, which functions as a studio space for both in-house productions as well as third party contracting. http://www.dreammagicstudiosla.com .
Social Media @DreamMagicLa on Instagram and Twitter
About Jared Murray-Bruce
Jared Murray-Bruce is a graduate of Loyola Marymount University and is the son of entertainment and business mogul and Nigerian State Senator Ben Murray-Bruce. He now serves as President and Head of Operations for Dream Magic Studios and is also the Executive Producer of Rhythm Late Night, a live talk show that airs in Nigeria.
About Central City Stages
Central City Stages offers a fully dressed Delivery, E.R., O.R., I.C.U., Nurses Stations, N.I.C.U. and all of the instruments, costuming, props and equipment needed in a hospital setting. Central City Stages also offers Post Production capabilities with innovative digital workflow features that enhances the ability to create extraordinary film and video projects.
Social Media: Twitter @cc_stages and Facebook https://www.facebook.com/Central-City-Stages-271146977123/