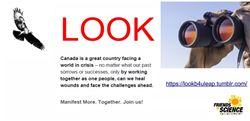 There is no 'low-carbon economy...The world runs on 3 cubic miles of oil equivalent energy (CMO). One cubic mile is oil alone. Wind and solar globally supply only 0.01 cubic mile (CMO) energy
Calgary, Alberta, Canada (PRWEB) March 02, 2016
As reported in the Vancouver Province, March 1, 2016, Canadian Prime Minister Justin Trudeau extended his support for a new group calling itself "Smart Prosperity" at the advent of the GLOBE 2016 sustainability and climate change conference in Vancouver, B.C., but Friends of Science Society are cautioning policy-makers and business leaders to "look before you leap." #LookB4ULEAP
In a response to Naomi Klein's group and their "LEAP Manifesto" – Friends of Science have issued the "Look Manifesto" to inspire Canadians to manifest more together, building on our successes, rather than leaping into radical change.
Regarding the push by Smart Prosperity "to seriously accelerate the transition to a high-efficiency, low carbon economy," Friends of Science Society says global evidence shows that renewable is not-so-doable, citing examples of rising power prices in Ontario, as reported by the Toronto Star Dec. 2, 2015. LINK: thestar.com/news/queenspark/2015/12/02/ontario-consumers-likely-paying-billions-extra-for-hydro-one-decisions-auditor-general.html.
As investments go, the Wall Street Journal reported on March 25, 2013 that Joseph Dear, then Chief Investment Officer of CalPers, the sixth largest pension fund, said clean-tech is a "noble way to lose money." Reportedly their 2007 investment of some $460 million "…has an annualized return of minus 9.7% to date." (2013)
Citing the July 2014 Finadvice report "Lessons Learned from Germany", Friends of Science says it is a mistake to rush into renewable energy or to try to compete in a dash for a low-carbon economy.
"It's very concerning that a group of academics and business people are apparently unaware of the devastating consequences to economies that have 'rushed-to-renewables,'" says Michelle Stirling, Communications Manager for Friends of Science.
"First of all, there is no 'low-carbon economy,'" says Stirling.
She points to several reports and a book. As reported by Forbes Aug 10, 2010, the world runs on 3 cubic miles of oil equivalent energy (CMO). One cubic mile is oil alone. Wind and solar globally supply only 0.01 cubic mile (CMO) energy. LINK: forbes.com/2010/08/09/energy-policy-coal-technology-oil.html
Energy author Robert Bryce explains wind and solar are not energy dense or reliable, in his book "Smaller Faster Lighter Denser Cheaper," as explained in the New York Times review of June 7, 2014. LINK:.nytimes.com/2014/06/08/business/energy-environment/review-of-smaller-faster-lighter-denser-cheaper.html?_r=0
According to Google Engineers, renewables simply won't work, and do not address climate change, as reported in The Spectator of Nov. 21, 2014. LINK:theregister.co.uk/2014/11/21/renewable_energy_simply_wont_work_google_renewables_engineers/
"We hosted Dr. Benny Peiser in 2013," says Stirling, "and he discussed the devastating social and employment outcomes of Europe's 'rush-to-renewables,' including joblessness, collapse of industry and heat-or-eat poverty."
Carbon taxes are sometimes touted as a means of reducing carbon dioxide emissions by 'making the polluter pay,' but the National Observer reported on Feb. 29, 2016, that B.C.'s much lauded carbon tax has done nothing to reduce emissions.
Friends of Science recently issued their own report "A Burden with No Benefit" on the valueless nature of carbon taxes.
'Canada is a great country facing a world in crisis," says Stirling. "Now is not the time to rush into anything new that would further destabilize our economy or burden taxpayers."
Dr. Peiser's presentation "To Heat or Eat: Europe's Climate Policy Fiasco" is online at: friendsofscience.org/index.php?id=653
About
Friends of Science Society have spent a decade reviewing a broad spectrum of literature on climate change and have concluded the sun is the main driver of climate change, not carbon dioxide (CO2). Friends of Science is made up of a growing group of earth, atmospheric and solar scientists, engineers, and citizens.
Friends of Science Society
P.O. Box 23167, Mission P.O.
Calgary, Alberta
Canada T2S 3B1
Toll-free Telephone: 1-888-789-9597
Web: friendsofscience.org
E-mail: contact(at)friendsofscience(dot)org