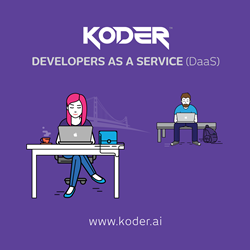 Koder has been a fantastic experience and a cost-effective subscription service for Bravo
San Francisco, CA (PRWEB) March 03, 2016
Koder (http://www.koder.ai), the world's first Developers-as-a-Service (DaaS) platform, today launches its monthly subscription service for startups and enterprises of all sizes at the LAUNCH Festival in San Francisco. Koder is powered by Artificial Intelligence (AI) technology and an on-demand workforce. It connects companies with some of the world's top developers and designers to build innovative apps and technology products using a simple monthly subscription service starting at $999 a month.
"CEOs and business decision makers realize that this is the era of the sharing economy. Hiring a full-time team of developers, designers and product managers is time consuming and expensive. It also isn't very efficient when you're trying to conserve cash and get to market quickly or just need an MVP prototype," said Elmer Morales, Founder and CEO of Koder.
With Koder's pay-as-you-go software development services, businesses pay monthly and see progress throughout the month rather than waiting months and sometimes years for a finished product using the traditional route. When products are completed, customers can downgrade or cancel their subscription and resume when they're ready to build the next hot thing.
"This is all about giving customers more choice in how they tackle their next app or software project," said Morales. "Our pay-as-you-go approach makes it possible for businesses to improve their cash flow and lowers the administrative burden of hiring and managing an engineering team."
Maria Luna, MBA, co-founder and CEO of Bravo Tip or Pay, a mobile payments startup that won the Audience Choice at TechCrunch Disrupt San Francisco in 2015 is one of its early customers.
"Bravo is currently working with Koder on v2 and hands down, Koder has been a fantastic experience and cost-effective service. Koder is a new school of shared economy and is making the entire app development lifecycle more efficient for us," Luna said.
Koder's DaaS platform is "democratizing" software development as we know it. Entrepreneurs and companies will no longer have to tolerate expensive, risky, difficult-to-negotiate contracts from service providers that take too much time to deliver and offer a questionable return on investment.
About Koder
Based in San Francisco and Irvine, Koder is a subscription service that democratizes the way startups and enterprises of all sizes buy software development services. Using an on-demand workforce and proprietary technology, Koder offers top developers and designers in a monthly pay-as-you-go subscription.