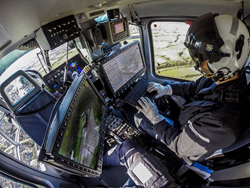 Our intuitive software will provide the tools to ensure NPAS helicopters remain at the forefront of technology for years to come
Halifax, Nova Scotia (PRWEB) March 02, 2016
CarteNav Solutions (http://www.CarteNav.com), the international leader in mission system software announced recently that the first upgraded UK National Police Air Service (NPAS) EC135 T2+ helicopter is now operational using their AIMS-ISR® mission system software.
NPAS have earmarked almost a third of their fleet for an upgrade, with a total of seven aircraft benefitting from increased mission endurance and an upgraded mission system.
Delivery of the first upgraded aircraft to NPAS was formally announced at the HeliTech International trade show in London, in October 2015. A period of intense testing and training followed, before the aircraft could be classed as operational in late February this year.
Bond Air Services delivered the aircraft to the customer after carrying out much of the modification work at its Staverton facility in the west of the UK.
The upgraded helicopters will also be equipped with a number of sensors, including a state-of-the-art camera as well as the mission system technology. The interior of each aircraft is being redesigned with touch-screen displays and an ergonomic layout, giving the crew more space in which to work.
Paul Evans, CEO of CarteNav, said "We are delighted to see this program coming to fruition and to see the first upgraded aircraft brought into service".
CarteNav's software integrates an L-3 WESCAM MX-10 camera system with a number of other sensors and tools that will improve the operator's overall situational awareness and provide a highly capable and intuitive operating system.
"Our intuitive software will provide the tools to ensure NPAS helicopters remain at the forefront of technology for years to come", continued Mr. Evans.
The further six helicopters will be delivered to NPAS over the next twelve months and will all have the same AIMS-ISR® mission software.
About CarteNav Solutions Inc.
CarteNav Solutions Inc. is an international leader in mission and sensor management software solutions for the airborne, land, and maritime environments. Founded in 2002, CarteNav offers operationally proven technology that integrates, manages, and displays relevant data that dramatically improves the performance of both sensor operators and tactical decision makers. The company has established a reputation for providing sought-after, high-value solutions that can be deployed on a wide variety of platforms for multiple mission types for government, military, and commercial customers.