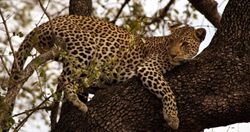 The 17-day trip includes flights from North America, and spends two weeks touring South Africa.
Glendale, CA (PRWEB) March 04, 2016
The South Africa sampler is perhaps Goway Travel's most popular South Africa holiday. To celebrate a resurgence in Africa travel over the past year, the company is offering $400 off this popular tour to passengers who book by the end of March.
The 17-day trip includes flights from North America, and spends two weeks touring South Africa. Highlights include Kruger National Park, Zululand, St Lucia and the Drakensberg, the Garden Route, and beautiful and sophisticated Cape Town. It's an itinerary that demonstrates South Africa's much-touted 'world in one country' claim, combining many of the country's best experiences, and taking passengers to visit the independent kingdom of Swaziland.
Guests can embark on an Africa safari, with a strong chance of spotting the continent's famous 'Big 5' – elephants, black rhinos, water buffalo, lions, and leopards. They will also visit the spectacular canyons and landscapes of the Lowveld, immerse themselves in the coastal charms of Durban, and visit the 'feather capital of the world,' Oudtshoorn, and the Cango Caves.
Departures are currently scheduled up until June 11, 2016, and include 14 nights accommodation and breakfast, tours and sightseeing, round-trip airfares from North America, hotel porterage, and all park fees. Prices start at just US$2589 (ex New York or Washington) or CA$3699 (ex Toronto), and are valid for bookings made by March 31, 2016. Additional experiences including safaris, game drives, tours, and cruises can be added at competitive rates. Thanks to a sluggish South African rand, passengers can also expect their dollar to stretch further on incidentals like wine, food, and souvenirs.
Since 1970, Goway has been providing unforgettable travel experiences to Africa, Asia, Australia and New Zealand, polar and idyllic island destinations, Europe and South America. Today Goway is recognized as one of North America's leading travel companies for individuals, families and groups to select exotic destinations around the globe. Goway has offices in Los Angeles, Vancouver, Toronto, Manila, and Sydney (Australia).
For reservations and information, visit http://www.goway.com, or call 1-800-387-8850.