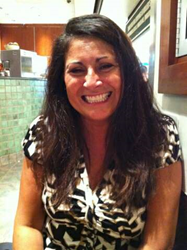 If you can come in every day with heart, still touched and affected by what you do, whom you see, then this is where you should be.
(PRWEB) March 02, 2016
One day 22 years ago, Venus Perez came home from work in sobs. Not because she didn't enjoy the skilled nursing career she'd recently begun, but because she'd witnessed something she's never forgotten: an elderly woman waiting excitedly for her family to pick her up for Thanksgiving dinner. They never came.
"That was back in the day," said Perez, new director of nursing at GreenFields' Briarwood Healthcare Center in Geneva. "But I realized then and there that seniors need a friend, an advocate, and I've never looked back." GreenFields, a continuous care retirement community (CCRC, where residents can remain on the same campus if and when their care needs change), manifests a philosophy Perez believes in passionately.
"I love the concept of a CCRC, where residents can age in place, maintain friendships, and not have to transfer into a whole new situation." Perez, who joined the Briarwood neighborhood late last year, would like the same for herself as a staff member. "I want to set my roots here," she said. "GreenFields is a Friendship Senior Options community and thus part of a very personable organization. They want to know every employee, and they foster an environment of teamwork and support, where every discipline is helping our residents and one another."
Encompassing independent living, assisted living, memory care, rehabilitation and skilled nursing, GreenFields is not "the last place to go before you die," stresses Perez. "It's a place where lives can be enriched—not just medically, but socially and psychologically, too." With the primary goal of getting residents back to independent living, Perez says she is committed to hands-on care. Motivating residents to go out and experience all there is to see and do in their surroundings is what keeps her engaged and in love with her work.
After working in cost accounting, Perez began her nursing career as a floor nurse, then a night supervisor, then director of nursing at two prior care communities. At Briarwood, she manages the entire nursing staff and oversees the care of all residents. "I appreciate that my position allows me to effect change. I never thought I'd go into nursing care, but my heart is completely in it," she said. "It has to be. If people go into nursing for something other than genuine love and care for people, they should find something else to do. If you can come in every day with heart, still touched and affected by what you do, whom you see, then this is where you should be."
The mother of three daughters, one who is entering the health field, Perez remarked that her girls never had to be coerced into maintaining regular contact with their grandmother. "They did it all on their own; it was just natural for them to reach out to her," said Perez. Clearly, the apples didn't fall far from the tree. "I love what I do and where I am. The only reason I would leave GreenFields is if my husband and I moved somewhere warm!"
GreenFields is an exceptional LifeCare community offering an ideal location, a wonderful retirement lifestyle. GreenFields offers independent living, assisted living, memory support, rehabilitation and skilled nursing, with the most comprehensive plan available for long-term care if ever needed. For additional information, visit http://www.GreenFieldsOfGeneva.org.