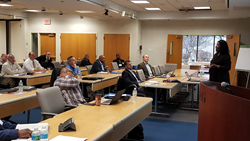 Edison, NJ (PRWEB) March 02, 2016
Dozens of military veterans were given a unique opportunity to receive job searching assistance from high level employees at the Military Veterans Skills and Career Workshop this past week in Edison, NJ.
GI Go Fund partnered with PSEG to give veterans returning home from Iraq and Afghanistan an opportunity to meet with fellow veterans who serve in management positions at each of these companies to learn more about finding employment. The workshop showed veterans how they can translate their military experience into a civilian career, provided assistance with veterans looking to improve their resumes, and gave veterans the chance to share their transition stories with other veterans who have successfully transferred their military background into steady employment.
"We are very excited to have the chance to give these veterans the tools they need from the best of the best," said GI Go Fund Executive Director Jack Fanous. "Our priority is finding veterans great jobs for the new age economy, and there is no better way than to work with companies like PSEG who, thanks to leaders like Diana Drysdale and Sally Nadler, have done amazing things for veterans. We want to make sure we not only help veterans translate their skills, but do so in a way that will attract them to the top companies, and we will continue to find new pathways to get veterans into the jobs of the next generation."
For the veterans that were part of this event, they will have the opportunity to utilize the skills they have learned at the GI Go Fund's upcoming Newark Job Fair at NJPAC on April 12, where they will have the opportunity to speak with over 50 employers from all across the region who are looking to hire veterans.
GI Go Fund is committed to linking veterans to the best employment opportunities and support to find them a steady, solid career. Workshops like these have been a staple of the organization's efforts to help veterans better prepare for the job hunt, working with other corporate leaders like Johnson & Johnson, Ernst & Young, Citi, and Prudential to provide resume writing and job interview assistance to young vets transitioning home, and will continue to hold these workshops numerous times throughout the year.
Special thanks to Diana Drysdale, President of Renewables at PSEG, Sally Nadler, Manager Workforce Development, and Kendall Ademu-John, HR Specialist - Diversity Outreach, for making this event a success.
About GI Go Fund
GI Go Fund is an organization on the cutting edge of offering support to veterans, providing veterans with innovative ways of finding employment, securing their educational and health benefits, as well as providing aid and assistance to low income and homeless veterans. Since their founding, the organization has helped tens of thousands of veterans improve their lives and give them the capacity to provide and care for their loved ones. For more information, visit http://www.gigofund.org.