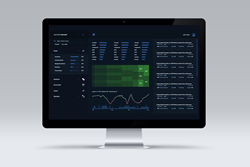 "My investment strategy uses fundamental analysis, but Accern makes it much easier to pick the right times to enter and exit positions, as well as to predict (and thus manage) volatility," says Igor Rivin, Managing Director of Samsara Investment Partners.
New York, NY (PRWEB) March 02, 2016
Accern, a NYC-based financial technology startup, today announced the launch of an intuitive and advanced visual social analytic platform called Accern Vigilant. Aimed to disrupt institutional investing and research, Vigilant is the first of its kind which uses a combination of proprietary and 3rd party language processing technologies to scan over 20 million news and blog sites in real-time, and actively alerts users on critical situations that could affect their portfolio. As a visual analytics platform with interactive charts, such as word cloud, heat map, sentiment trends etc., and sophisticated visual filtering capabilities, Vigilant help users drill down into stories that matter. Accern has partnered with text analytics leader Lexalytics to provide investor sentiment trends and insights on social data related to US public equities. Vigilant is the third product in Accern's portfolio, which already has Alpha Stream, a real-time institutional data feed, and Alpha One, an aggregated daily feed for retail traders.
"Many portfolio managers are astonished by the intuitiveness of the platform. The ability to search, aggregate and visualize information from millions of articles gives enormous power to investors seeking to conduct research and make investment decisions," says Kumesh Aroomoogan, Co-Founder and CEO of Accern. "From big data architecture and analytics to interface design, we have made significant technological advancements and packaged it into one platform -- Vigilant. We provide institutional investors and equity researchers the ability to seamlessly interact with millions of articles coming from all over the web, and generate trading insights and opportunities."
Vigilant comes with a suite of analytics, monitoring and research features. Allowing the users to create portfolios, and alerts based on financial events, media sources, market sentiment, exposure of information etc., Vigilant will attract investors who want to stay updated about every news piece, blog post or even a Wall Street rumor.
"My investment strategy uses fundamental analysis, but Accern's data makes it much easier to pick the right times to enter and exit positions, as well as to predict (and thus manage) volatility," says Igor Rivin, Managing Director of Samsara Investment Partners.
Utilizing social analytics in investment strategies has received a lot of attention in recent years. However, investors often fear about the excessive amount of spam and irrelevant information on the web, and basing trading decisions on this. Finding relevant and actionable information from millions of real-time streaming social data is one of the major issues institutional investors are currently facing.
"Accern has deep experience and expertise in Machine Learning," said Jeff Catlin, CEO of Lexalytics. "We are thrilled to partner with their team and provide sentiment analysis processing to uncover trends and insights so that institutional investors can maximize their opportunities and make informed decisions."
"We have built an extensive filtering mechanism that helps cancel out 99% of the spams our systems are exposed to," says Anshul Vikram Pandey, Co-Founder and CTO of Accern. Talking about the details of Accern's filtering mechanism, he adds, "To provide our clients with only actionable information, we use a range of machine learning models using ensemble learning, over 100+ noise patterns, semantic analysis, relevancy determination, and our proprietary finance-focused dictionary. As these components are dynamic, they improve with new data they are exposed to, forming one of the world's most sophisticated filtering mechanisms for finance."
Another major problem that institutional investors have is determining how reliable the information coming from social media or a public news and blog sites are. There are many instances where false rumors have been released on the web which cost institutional investors major losses.
Accern has built the world's first social ranking algorithm which determines the reliability of a source or an author based on how fast they can release certain types of stories, and how contextually similar stories get republished by other media outlets – essentially showing a sign of reliability.
Other key metrics that Accern provides include 'saturation' and 'impact', which predict the exposure of certain information on the web, along with probable impact that story may have on the stock prices of the mentioned companies.
About Accern
Accern provides social analytics solutions to the financial service industry to support trading, investment, and research. With the industry's most comprehensive collection of 20 million news and blog sites, Accern utilizes a combination of both proprietary and 3rd party natural language processing and machine-learning algorithms to derive feature-rich analytics in real-time. Accern has developed one of the world's most sophisticated machine learning based filters for finance to provide institutional investors and researchers information that matters. Accern is headquartered on 110 Wall Street, New York, NY 10005. For more information, please visit http://www.accern.com, email info(at)accern(dot)com or call 1-347-256-8460. Follow Accern on Twitter and LinkedIn.
About Lexalytics®
Processing billions of unstructured documents every day globally, Lexalytics is the industry leader in translating text into profitable decisions. Lexalytics deploys state-of –the-art cloud and on-prem text and sentiment analysis technologies that transform customers' thoughts and conversations into actionable insights. The on-premise Salience® and SaaS Semantria® platforms are implemented in a variety of industries for social media monitoring, reputation management and voice of the customer programs. Based in Boston, MA, Lexalytics has offices in the US and Canada. For more information, please visit http://www.lexalytics.com, email sales(at)lexalytics(dot)com or call 1-617-249-1049. Follow Lexalytics on Twitter and LinkedIn.