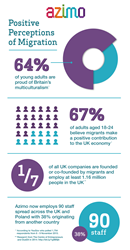 "Healthy migration is the essence of a great economy and fuels innovation in key industries, especially the technology sector. Just look at the startup scene: many of the founders are migrants - myself included,"
London, UK (PRWEB UK) 2 March 2016
• The majority of young adults are proud of multiculturalism in the UK

67 per cent of adults aged between 18 and 24 believe migrants make a positive contribution to the UK economy
This is despite the fact that only 24 per cent of young adults think migrants in Britain have a positive image
Following a year dominated by migration policies and headlines, a YouGov study commissioned by digital money transfer service Azimo found the majority of young people (aged 18-24) believe migrants contribute a great deal or fair amount to the British economy.
Despite the British public agreeing that migrants have a negative perception in the UK, young people are the proudest of Britain's multiculturalism compared to older generations.
Migrants fuel industries in demand
Over the past year, there have been mixed views about the contribution migrants make to the British economy. However, statistics clearly show the benefits of immigration to the economy. According to the Centre of Entrepreneurs, there are 456,073 migrant entrepreneurs in the UK and 464,527 companies have been founded, or co-founded by migrant entrepreneurs. These make up one in seven of all UK companies and employ at least 1.16 million people in the UK.**
Figures released by the Department of Business, Innovation and Skills (BIS) in August last year revealed businesses run by migrants on entrepreneur visas have contributed £1.45bn annually to the UK economy since 2008.***
Yet, despite those figures, less than half (43 per cent) of respondents over 40 years old believe migrants contribute to the economy.
"Healthy migration is the essence of a great economy and fuels innovation in key industries, especially the technology sector. Just look at the startup scene: many of the founders are migrants - myself included," said Marta Krupinska, co-founder and general manager at Azimo.
Originally from Poland, Marta moved to the UK in 2012 and co-founded Azimo shortly after. Azimo now employs 90 staff spread across the UK and Poland with 38 per cent originating from another country.
"The founders of CityMapper, Yplan, and FarFetch also moved to the UK, built multi-million dollar businesses and created jobs. It's really positive to see young people are changing popular opinion of migrants and recognizing the impact migration can have on a country's culture and economy. Thanks to them, our future is bright" continued Krupinska.
Tech talent has consistently been in the short supply for the UK, with vacancies a continuing problem. New research from Randstad Technologies found that nearly half (49 per cent) of all tech workers planned to retire early, which could lead to a serious skills shortage in the sector****.
Lawrence Wintermeyer, CEO of Innovate Finance, said: "The UK's FinTech startup ecosystem depends on the availability of tech talent to fuel the growth of new businesses. This talent comes from all over the world and highly skilled immigrants that can support start-ups – as well as traditional institutions are in demand for our sector."
-Ends-
Notes to editors
*According to YouGov who polled 1,754 respondents from 8 - 9 November 2015.
** Research from The Centre of Entrepreneurs and DueDil in 2014 (http://bit.ly/1g9BSjh)
***Department of Business, Innovation and Skills (BIS) – August 2015 (http://bit.ly/1T0eUTR)
**** Research from ranstad – January 2016 (http://bit.ly/1OtTIBD)
About Azimo
Azimo is a London-based digital money transfer service, changing the way people send money around the world. Honest, transparent and social, Azimo is the cheapest and easiest way to send money to over 190 countries across the world, from any internet connected device. For more information, visit http://www.azimo.com
Facebook: http://www.facebook.com/azimomoney
Twitter: @azimo