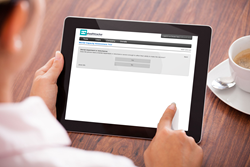 ensure that hard pressed health and social care professionals make the right decisions about caring for the most vulnerable
Truro, Cornwall (PRWEB UK) 4 March 2016
Desuto is an innovative and exciting new company producing tools to ensure that hard pressed health and social care professionals make the right decisions about caring for the most vulnerable people in our society.
The brainchild of four highly skilled and experienced professionals, ehealthtracker by Desuto is decision support software that guides health or social care workers to choose the right course of action when they need to make complex decisions about a person's capacity, best interest or restrictions which could amount to deprivation of liberty.
The significant benefits for health and social care organisations include real time expert guidance, problem based learning, reduced time making decisions and writing reports, reduced costs, increased compliance and reduced risk of litigation.
Ehealthtracker has been free to use since it was designed by the team in 2012, enabling the designers to refine and to perfect the product. The number of organisations registered to use the software is increasing daily and recently passed the 250 mark. Desuto are now ready to develop a new range of tools designed to support complex decision making in other fields such as education and police services, as well as in social services and healthcare. The website is currently being redesigned and will include enhanced support for users.
In order to achieve this the team have launched an investment round on Seeders https://goo.gl/zZoYoa, a crowdfunding site where details of the funding campaign and business plan are available for potential investors. 54% of the investment needed has already been pledged in the first 16 days of the campaign, from a range of investors and the opportunity to invest will be available until the 15th of April.