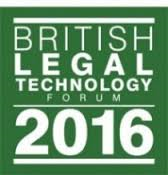 Qorus Breeze Proposals is perfectly suited to the legal sector.
London, United Kingdom (PRWEB) March 04, 2016
Qorus Software will be demonstrating its popular pitch, proposal and RFP management solution, Qorus Breeze Proposals, at this year's British Legal Technology Forum.
"Qorus Breeze Proposals is perfectly suited to the legal sector," explains Europe Territory Manager for Qorus, Paul Rollason. "It has a powerful content library that really simplifies the task of keeping experience and capability information updated. It's also great for storing reusable RFP answers."
Qorus Software enjoys close partnerships with Microsoft and Thomson Reuters Elite. It's solutions plug into Word, PowerPoint and Excel and integrate with SiteCore CMS and Business Development Premier.
Visit Qorus at booth E9 and stand a chance to win an iPad Mini.
--
About Qorus Software
Qorus Software is a global provider of easy to use yet sophisticated proposal management and
document automation solutions that accelerate the sales process.
Its software simplifies the tasks of creating, collaborating on, maintaining, and sharing bid,
proposal, sales and marketing content. Even the most untechnical of users can create, edit and build templates and documents in Word, Excel and PowerPoint.
Qorus Software has offices in Seattle, London and Cape Town.
For more information visit http://www.qorusdocs.com
Or to see reviews of our software, visit https://www.g2crowd.com/products/qorus-breeze-proposals/reviews