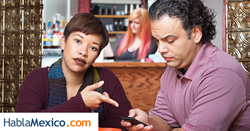 What made me fall in love with him was that he was not the materialist type, but instead offered me flowers and left personal notes. Moreover, he was a real gentleman. (Adela N.)
Atlanta, Georgia (PRWEB) March 04, 2016
HablaMexico.com hosted a Valentine's Day contest that revealed Mexican women's preferences when it comes to choosing a partner. The participants were all fans of the Facebook page called Extrano Mexico. The contest, powered by HablaMexico.com asked everyone to name one thing that had made them fall in love with their partner. The contest addressed 2,082 Mexican expats, both women and men. Yet, only women took up the challenge.
The aspects they mentioned were clearly a Latino's choice. What made the participants in the contest fall in love was a fair and respectful behaviour towards them, as well as the man's sentimentality and expressive affection. That also goes hand in hand with other factors: man's attention, his high spiritual level and lack of materialism. Having someone handsome nearby was also a strong argument. The contest was powered by HablaMexico.com, the global provider that serves Mexican expats worldwide. The honest lady-winner received up to 1000 international minutes to call Mexico using Voice Credit from http://hablamexico.com/buy/voice .
To be well treated is one of the main ingredients of the love kit. According to some Facebook comments, Mexican women abroad melt in front of an elegant, affectionate and respectful attitude.
The rest of the results of the Valentine's Day contest on Extrano Mexico Facebook page were also very interesting. Having a sensitive man as a partner seems rather impressive for Mexican women living abroad.
Sentimental guys are preferred over materialistic ones in long term relationships. Generally speaking, Mexican women are strong, optimistic and cheerful, based on observation and stereotypes. They are profound due to their culture and well capable of taking care of their small or large families due to their temper and economic startup conditions. So they rather look for a complementary source of inspiration and playfulness, instead of material strength.
In the third place, men who are open about how they feel and prove it through gestures are well appreciated by emancipated Mexican women abroad. Although the non-materialistic type is the favorite male type for Mexican expat women, gifts like flowers and wish cards are welcome: "What made me fall in love with him was that he was not the materialist type, but instead offered me flowers and left personal notes. Moreover, he was a real gentleman. (Adela N.)"
Also, attention is a key aspect that Mexican expat women fall for. Receiving attention is directly translated as being loved, desired, appreciated and respected. Attention also includes time with a partner, and that proves his or her pleasure to be around one's partner.
Obviously, some ladies commented from a mixed-ethnic relationship perspective. But what was funny is that they may not have had a Mexican partner, they surely did have a Mexican soul. Their comments aligned to Elvira, Ekaterina, Salud, etc, the true-born Mexicans.
For those many Mexican couples who have a long distance relationship, HablaMexico.com has been providing low rates and frequent offers for more than 10 years. The website facilitates international calls, replacing the old-fashioned calling cards. The purchase is online and takes less than 1 minute.
Here is how to call Mexico in 3 different ways when one has a free account on HablaMexico.com:

One can install KeepCalling app on an Android or iOS device.
One can use Access Numbers to call from any phone without Internet.
One can call from PC to any phone abroad using the desktop app called Web Call, available in one's account.
Besides the Voice Credit for affordable international calls to Mexico and other destinations in the world, HablaMexico.com offers international mobile credit transfers too, called Mobile Recharges. This is the way a Mexican abroad can support a friend or a relative back home in Mexico easily.
All contests and promotions for Mexicans abroad are available on the website, HablaMexico.com, or on the Facebook page: https://www.facebook.com/ExtranoMexico.Fan
HablaMexico.com is an interactive website designed by KeepCalling, a global telecommunications company registered in 2002 in USA. Presently, KeepCalling provides its services to hundreds of thousands of consumers and businesses, with a focus on customer satisfaction. KeepCalling has been listed by Inc 5000 as one of the fastest growing companies in the USA for 5 consecutive years. In 2015 the company registered a revenue increase of over 200% from 2011 to 2014.