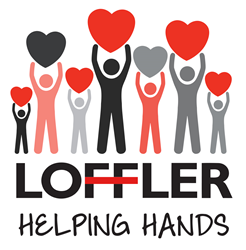 Since the day Loffler Companies began in October 1986, Jim Loffler, President and CEO, made giving back a part of the mission statement of Loffler Companies.
Minneapolis, MN (PRWEB) March 03, 2016
Loffler Companies has been named a Community Impact Award finalist in the "Long-Term Commitment" category by Minnesota Business magazine for demonstrating an on-going, long-term commitment to support and impact Minnesota's non-profits and other worthy causes. Since the day Loffler Companies began in October 1986, Jim Loffler, President and CEO, made giving back a part of the mission statement of Loffler Companies which states in part, "The foundation of our success is based on exceeding the expectations of our clients, employees, partners and community."
Loffler's involvement in community and charitable activities grew over the years to the point they were honored in 2012 with a Jefferson Award for Public Service, an national award created by Jackie Onasis and key Senators. As community involvement remained at the forefront of Jim's vision for his company, in 2015 he appointed a Community Connection Director to conceptualize, develop and facilitate projects related to Loffler's commitment to the community and being a valued neighbor in the communities Loffler serves. With this newly organized team and increased focus, Loffler's impact on the community will be enhanced and involve more Loffler employees than ever before.
"We are incredibly honored to be chosen by Minnesota Business magazine as a Community Impact Award finalist in the Long-Term Achievement category," said Jim Loffler. "We nurture a culture of giving back at Loffler, and I am so proud of all our employees who step up to help make the world a better place."
In addition to Loffler's donations of time and money, the company firmly supports the charitable efforts of their clients. Throughout the year approximately 50 client companies have been supported in their charitable and fundraising efforts with the donation of tickets, products, financial contributions, participation in events, etc. From bike rides to raise money, to serving breakfast at the Ronald McDonald House, to packing meals for the Feed My Starving Children organization, and donating blood to Memorial Blood Center, Loffler employees feel a sense of pride and ownership in working for a company that gives back to the communities in which they all live and work.
A primary benefactor of Loffler Companies is the St. Josephs Home for Children which receives a $10,000 donation from Loffler each year, as well as employee volunteer time. A few of the other organizations receiving donations of time and money include VEAP (Volunteers Enlisted to Assist People), Susan G Komen Race for the Cure, Memorial Blood Centers (employees donate blood onsite every six–seven weeks), Meals on Wheels, Vikings Children's Fund and the Ronald McDonald House. Employees also participate in the Remax Breast Cancer Ride, and internal fundraisers for co-workers in crisis or experiencing trying times in their lives.
About Loffler Companies
Founded in 1986 by Jim Loffler, Loffler Companies provides business technology and services to improve a client's productivity and bottom line results. Offerings include multifunctional copiers and printers (Canon, Konica Minolta, HP, Toshiba, Océ, Lexmark), managed print services, software and workflow technologies, IT solutions, VoIP phone solutions (NEC and ShoreTel), and on-site people-based management of copy centers and mail rooms. Today, Loffler has more than 400 employees supporting Minnesota and Western Wisconsin clients whose businesses are local, national and international in scope. For more information about Loffler Companies and how it can help your organization succeed, please call Loffler at (952) 925-6800 or visit http://www.loffler.com.