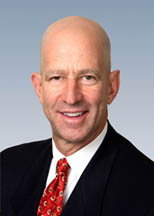 New York, NY (PRWEB) March 03, 2016
Bernard A. Krooks, Esq., of Littman Krooks LLP will be the featured guest speaker on Living Better on the Go with Laura Smith. He will discuss the importance of proper estate planning for seniors, individuals with special needs and their families. The interview will air on 770 WABC-AM and WABCRadio.com on Saturday, March 5, 2016 at 7PM.
WABC will also air special segments of Living Better on the Go with short length features highlighting Littman Krooks' practice areas in elder law and special needs planning. These segments will air throughout the day on 770 WABC-AM in March and April.
Mr. Krooks is a founding partner of Littman Krooks LLP with offices in New York City and White Plains and is the Chair of its Elder Law and Special Needs Department. He is a nationally prominent expert in all aspects of elder law, estate planning and special needs planning.
He is a member of the Estate Planning Hall of Fame of the National Association of Estate Planners & Councils (NAEPC) and is the recipient of an Accredited Estate Planner® Distinguished designation. Krooks serves as Chair of the Elder Law Committee of the American College of Trust and Estate Counsel (ACTEC).
Additionally, Trusts & Estates magazine appointed him Chair of the Elder Care Committee of their Editorial Advisory Board. Krooks is past President of the National Academy of Elder Law Attorneys (NAELA), and past Chair of the Elder Law and Special Needs Section of the New York State Bar Association (NYSBA). Best Lawyers in America® has included him in its definitive guide to legal excellence in the U.S. in the field of Elder Law and Trusts and Estates since 2007.
Krooks is the current President of the Board of Directors of The Arc of Westchester, the largest agency in Westchester County serving people with intellectual and developmental disabilities and their families.
About Littman Krooks
Littman Krooks LLP provides sophisticated legal advice and the high level of expertise ordinarily associated with large law firms along with the personal attention and responsiveness of smaller firms. These ingredients, which are the cornerstone of effective representation and necessary to a successful lawyer/client relationship, have become the foundation of the firm's success.
Littman Krooks LLP offers legal services in several areas of law, including elder law, estate planning, special needs planning, special education advocacy, and corporate and securities. Their offices are located at 655 Third Avenue, New York, New York and 399 Knollwood Road, White Plains, New York. For more information about Littman Krooks LLP, visit http://www.littmankrooks.com.