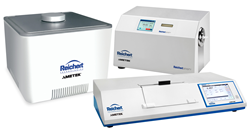 Buffalo, N.Y. (PRWEB) March 03, 2016
New Refractometers, Density Meters, and Polarimeters from Reichert Technologies measure the refractive index, density, and optical activity of a wide variety of substances, from sugars to pharmaceuticals, juices to engine coolant, and beer to chemicals. Part of a flexible system, these innovative, highly precise instruments are dependable, robust solutions to all laboratory measurement requirements, calculating accurately, quickly, and easily, streamlining workflow.
These new Reichert Analytical Instruments will be featured at:
PITTCON Conference and Expo 2016
REICHERT BOOTH #2057
March 6-10, Georgia World Congress Center
Atlanta, Georgia
ACS - American Chemical Society National Marketing and Exposition
REICHERT BOOTH #1316
March 13 – 17, San Diego Convention Center
San Diego, California
NEW REFRACTOMETERS
The top-of-the-line AR9 Refractometer is exceptionally precise with measurement accuracies of 0.00002 refractive index (RI) and 0.02% Brix. The AR9 is resilient and durable for exceptional performance in all applications. The economical AR5 Refractometer includes Peltier temperature control, making sophisticated measuring technology available to users on a tight budget. The AR5 is precise, measuring refractive index and % Brix with results accurate to 0.0001 RI and 0.05% Brix.
NEW DENSITY METERS
Two new Density Meters, Density5 and Density4 are robust, reliable and easy to use. With the push-of-a-button, these meters provide continuous, real-time density measurements of liquids. Density5 measures with results accurate to 5 decimal places and Density4 to 4 places. Both Density Meters allow maximum uptime and low cost maintenance with do-it-yourself replacement of the measurement module.
NEW POLARIMETERS
These new laboratory instruments are designed for analyzing optically active substances and are precise and accurate even at high optical rotations. Polar1 is the entry-level model accurate to 0.010/0.030Z and a 589mm fixed wavelength. Polar3 is precise to 0.0050/0.0150Z and includes one fixed wavelength with others available on request.
Operating System Is Designed with the User in Mind
An intuitive touchscreen on the 7" color Universal Display saves time by easily allowing the user to program settings and change methods for all of the new instruments. Through the Universal Display, the operating system (OS) also connects all of Reichert's new instruments, creating powerful analytical systems that simultaneously measure refractive index, density, and optical rotation. All of the instruments become part of the workflow, communicating with LIMS systems and other laboratory instruments via USB or RS232. The system software operates up to 5 measurement modules and by adding an optional GxP software package, the system provides full compliance with 21 CFR Part 11, meeting all security electronic records requirements for the pharmaceutical industry.
###
Reichert Technologies and Reichert Analytical Instruments Division
Reichert Technologies, headquartered in Buffalo, New York, is a global leader in the design, development, manufacturing, and sale of analytical and life-science instruments. It also is a leader in ophthalmic and medical devices, and other clinical instrumentation for the healthcare market.
Through its Analytical Instruments Division, Reichert Technologies offers laboratory and portable/field refractometers for the automotive, food and beverage, chemical, and industrial markets. Reichert Analytical has created nearly every technologic breakthrough in refractometry, including the Goldberg, the first and only liquid-filled refractometer that adjusts automatically for temperature compensation.
With more than 150 years of pioneering leadership, Reichert Technologies continues to produce innovative analytical instruments, including its latest density meters and polarimeters that set the highest standards for accuracy and quality.
Reichert Technologies along with its Analytical Instruments Division is a business unit of AMETEK Ultra Precision Technologies a division of AMETEK, Inc., a global leader in electronic instruments and electromechanical devices.