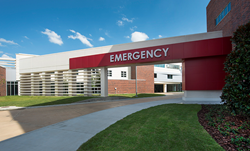 "This award is a commitment to our customer service and is a byproduct of exceeding our clients' expectations on every project, every time." --Bruce Adams, Florida Division Manager
BIRMINGHAM, Ala. (PRWEB) March 03, 2016
FOR IMMEDIATE RELEASE
Contact: Melissa Butler, Director of Marketing
205.803.0147 mbutler(at)robinsmorton(dot)com
BIRMINGHAM, Ala. (March 2, 2016) – Associated Builders and Contractors (ABC) announced Robins & Morton as a 2015 National Excellence in Construction Pyramid award winner for the work on Florida Hospital Tampa's emergency department at the 26th Annual Excellence in Construction Gala on March 2 in Fort Lauderdale, Florida.
ABC's Excellence in Construction Awards program recognizes outstanding construction projects across the country based on safety, quality, teamwork, planning and innovation.
The project earned recognition for its complex nature, expert value engineering and continuous scheduling adjustments to ensure the project was completed on time. Part of the project's complexity was the need to build a new, modern 42,500-square-foot emergency department in the middle of the existing 475-bed hospital campus surrounded by the Women's Heart Pavilion, Pepin Heart Institute and the hospital's north tower, then connecting it to the existing facilities. This impacted every hospital utility with minimal disruptions to hospital operations.
Mid-project, Robins & Morton also kicked off the construction of a three-story, 50,000-square-foot intensive care unit (ICU) tower above the emergency department while adding an ambulance canopy, expanding the central energy plant, relocating a loading dock and tying the buildings together. Ultimately, the $54.6 million project was completed on time and saved the owner $2.4 million.
"This award is a commitment to our customer service and is a byproduct of exceeding our clients' expectations on every project, every time," Florida Division Manager Bruce Adams said.
###
About ABC
Associated Builders and Contractors (ABC) is a national construction industry trade association representing nearly 21,000 chapter members. Founded on the merit shop philosophy, ABC and its 70 chapters help members develop people, win work and deliver that work safely, ethically, profitably and for the betterment of the communities in which ABC and its members work. Visit us at http://www.abc.org.
About Robins & Morton
Founded in 1946, Robins & Morton is a privately held engineering and construction firm that consistently ranks among the 100 largest U.S. contractors in Engineering News-Record Magazine. The company has also been named one of the best mid-sized companies to work for in America because of its worker-friendly and family-friendly practices. Robins & Morton is based in Birmingham, Alabama, with offices in Dallas, Texas; Huntsville, Alabama; Miami and Orlando, Florida; Nashville, Tennessee; Charlotte and Raleigh-Durham, North Carolina. For more information, visit http://www.robinsmorton.com