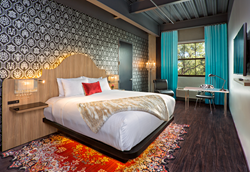 New York, NY (PRWEB) March 16, 2016
Renowned New York City-based architectural and interior design firm, Glen & Company Architecture has designed the Time Hotels brands newest development in Nyack, New York – The Time Nyack, located in the Hudson River Valley just north of Manhattan. Glen Coben, founder and owner of Glen & Co. is collaborating with Architect of Record, Environetics in designing a hotel that represents the eclectic spirit of Nyack, while reflecting the overall vision of Time Hotels. The Time Nyack is scheduled to open in March, 2016.
Developed by WYinc. Glen & Co. has designed both the public spaces and guestroom suites within the 133-room boutique hotel. Mr. Coben's concept for The Time Nyack introduces a refined and stylish urban retreat for locals and travelers alike to dine, work and play.
"Our design for the hotel was based upon the quirky, eclectic spirit of Nyack mashed up with the overall gestalt of the Time Hotels brand," said Mr. Coben. "The boutique hotel will offer its guests a getaway designed to immerse them into the Hudson Valley cultural and offer an escape from reality."
Upon entering the hotel, guests will be greeted by industrial aesthetics such as exposed brick, concrete and wood flooring and walnut paneling, bringing the Hudson Valley experience into the hotel. Food and beverage offerings will include a modern and vibrant lounge, rooftop bar and a BV Grill – a first-cousin of the famed Bobby Van's Steakhouse. Additional amenities will include approximately 3,500 square feet of meeting and event space, a business center, recreational pools, a fitness center, bike program, local shuttle services, and a Tesla charging station.
The lifestyle-driven boutique hotel will feature guest rooms that are industrial-inspired with loft-style interiors. The rooms will boast custom-made details and designs including modern furniture, graphic and textured wallcoverings, area rugs inspired by hand-woven Persian carpets and headboards with integrated lighting. Unique touches such as industrial lighting set against feather-adorned sconces will be incorporated throughout the space.
Nestled on a slope overlooking New York's Hudson River, Nyack is home to many artists, bohemians, and New York City transplants. Mr. Coben's design for The Time Nyack will honor the town's cultural, art and culinary offerings as well as its free-spirited community.
The Time Nyack is part of Dream Hotel Group, a hotel brand and management company, based in New York City.
About Glen & Company Architecture
Glen Coben, owner and principal of his namesake New York City-based Glen & Co. Architecture, founded the firm in 2000 in order to provide customized designs that realize a client's vision while also engaging their customers. The firm's projects demonstrate that brands can seamlessly integrate into the lives of others. Publications and outlets that have featured the firm and its projects include The Wall Street Journal, Metropolis, Hospitality Design, The New York Times, Interior Design, Hotel Business Design, and New York magazine's Grub Street.
Current projects focus on the design, development, and implementation of several value-oriented hotel projects. Coben and his team continue to challenge hotel brand standards, redesigning them to meet the demands of urban locations such as New York City. Recent work includes boutique hotel Archer New York, David Burke fabrick, the James Beard Award-winning Bâtard, Carbone, Empellón Al Pastor, a revamp of Empellón Cocina, and new fine dining restaurant Gabriel Kreuther.
About Time Hotels
In 1999, The Time brand was born, with the opening of its first hotel in the heart of Times Square, New York. As part of the company's multi-tiered brand development strategy, Dream Hotel Group transformed The Time into an upper-upscale brand named Time Hotels that caters to a clientele looking for progressively designed spaces and forward-thinking dining options in centrally located cities. The Time brand offers travelers an urbane lifestyle product with a refined edge. Sidestepping the raucous nightclub scene, its properties feature a more sophisticated lounge feel. Boutique in its ethos regardless of room count, Time offers a more evolved perspective on the lifestyle hotel movement.
About Dream Hotel Group
Dream Hotel Group is a hotel brand and management company with a rich, 30-year history of managing properties in some of the world's most highly competitive hotel environments. Home to its Dream Hotels, Time Hotels and Unscripted Hotels brands, Dream Hotel Group encompasses three business lines: Proprietary Brands, Hotel Management and Dining and Nightlife. The Company is committed to the philosophy that forward-thinking design, service and guest experiences should be available across market segments. Dream Hotel Group is dedicated to offering travelers an authentic connection to their chosen destination through a truly original approach. After thoughtful evaluation, and to leverage its world-renowned Dream Hotels brand, the Company this month has decided to sunset both the Hampshire Hotels Management and Debut Hotel Group names. The change to Dream Hotel Group will capitalize on the Company's most recognized assets to help raise awareness among guests, hotel owners and hotel developers.