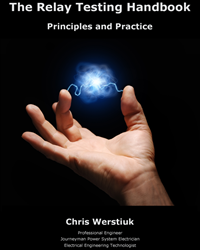 Portage, Michgian (PRWEB) March 03, 2016
NETA, the InterNational Electrical Testing Association, has named The Relay Testing Handbook: Principles and Practice its March Book of the Month, offering this comprehensive resource tool for $139.00, which is $20 below the full retail price. The 629-page hardbound book — and many other resources of value to electrical testing and maintenance professionals — is available through the online NETA Bookstore.
There are many books written about protective relays, but few expound on the topic of relay testing. In The Relay Testing Handbook: Principles and Practice, Chris Werstiuk has compiled a comprehensive mix of the theoretical and practical information needed to test protective relay systems. In addition to guidance on testing various protection elements such as overcurrent, differential, and distance, Werstiuk has also included sections on testing logic and documentation and report writing. The book also explores the electrical theory needed to understand how and why protective systems work.
Although modern protective relays have grown in complexity, testing procedures based on earlier generations of the technology are still widely in use. The fact is that modern relays require a different testing philosophy to ensure proper performance. This compilation includes the basic principles of relay testing for modern digital relays as well as clear instructions on individual elements — written specifically for relay testers rather than design engineers. The book covers:

Electrical fundamentals such as three-phase electricity, phasor diagrams, and fault types
Relay testing fundamentals including equipment guidelines
Common testing philosophies and guidance on which are the most efficient and effective
Translating digital logic used by relay manufacturers into familiar concepts
Best practices for creating and implementing test plans
Additional chapters include helpful information on the more commonly used protective elements such as overvoltage, undervoltage, and frequency; time, instantaneous, and directional overcurrent; simple and transformer differential testing with three- or six-current channels; and line distance testing using realistic test plans to minimize setting changes.
With clearly written guidance on testing techniques for maximizing efficiency and realistic examples from numerous relay manufacturers and models, The Relay Testing Handbook: Principles and Practice is an indispensable resource for anyone involved in relay testing.
To take advantage of this limited-time NETA March Book of the Month offer, visit the NETA Bookstore by March 31, 2016.
ABOUT NETA
NETA is an ANSI Accredited Standards Developing Organization that creates and maintains standards for electrical maintenance and acceptance testing for electrical power equipment and systems, as well as a standard that addresses the certification of electrical testing technicians. NETA is an association of leading electrical testing companies comprised of visionaries committed to advancing the industry standards for power system installation and maintenance to ensure the highest level of reliability and safety.