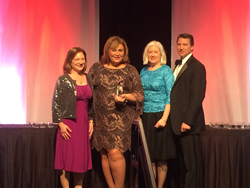 "Gilbane has continuously made a substantial investment in developing high-performing employees by offering highly engaging learning and coaching programs in technical, professional, and leadership development." Nancy Libardoni, VP
Providence, Rhode Island (PRWEB) March 02, 2016
Gilbane Building Company has once again been recognized by Training Magazine for the outstanding work of Gilbane University, the firm's internal educational platform, and was ranked among the top 30 leading companies across all industries. Gilbane University offers a wide range of construction, project management and leadership educational experiences and resources for employees.
"Gilbane has continuously made a substantial investment in developing high-performing employees by offering highly engaging learning and coaching programs in technical, professional, and leadership development," said Nancy Libardoni, Vice President, Director of Enterprise Learning and Development. "Our award-winning Gilbane University platform ensures our employees have the opportunity to expand their career, meet and exceed our customer's expectations, learn more about cutting edge innovation, and give back to their communities as well-rounded professionals."
The Top 125 ranking is determined by assessing a range of qualitative and quantitative factors, including financial investment in employee development, the scope of development programs, and how closely such development efforts are linked to business goals and objectives.