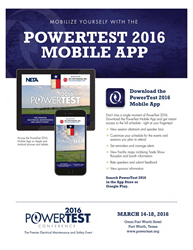 PowerTest 2016 Mobile App available in the App Store and Google Play
Portage, Michigan (PRWEB) March 04, 2016
NETA – InterNational Electrical Testing Association is encouraging attendees to the upcoming PowerTest 16 to download the new PowerTest mobile app to get instant access to the full schedule of informational sessions, trade show, and networking activities that will be offered during this year's premier electrical maintenance and safety event, which takes place March 14 - 18, 2016, at the Omni Fort Worth Hotel in Fort Worth, Texas — just two short weeks away.
NETA's PowerTest 2016 represents the largest gathering of electrical power systems professionals in the industry and is the only conference and trade show specifically designed for the electrical testing industry. Attendees include contractors, engineers, field service technicians, electrical inspectors, and consultants from manufacturing plants, testing companies, industrial plants, petrochemical plants, utilities, wind energy companies, and government agencies.
With 33 learning sessions and 12 in-depth technical seminars — as well as the ability to explore new products, ask questions, and expand their professional network — the PowerTest 2016 app helps attendees maximize their time with the following features:

Session abstracts and speaker bios
Customized scheduling for the events and sessions most important to the individual user
Ability to set reminders and manage alerts
Access to facility maps including the Trade Show floor plan and individual booth information
Opportunity to rate speakers and submit feedback
Useful information on sponsors
The PowerTest 2016 mobile app can be accessed on Apple and Android phones and tablets by searching for PowerTest 16 in the App Store or Google Play. Returning attendees who have already downloaded the PowerTest mobile app from 2015 can simply update the app in their device for the 2016 event.
Even though PowerTest 2016 is only two weeks away, there is still time to register online at http://www.powertest.org, where a complete PowerTest 2016 Conference and Trade Show agenda and additional information is available. Attendees may also call 888-300-6382 (NETA) for assistance.
ABOUT NETA
NETA is an ANSI Accredited Standards Developing Organization that creates and maintains standards for electrical maintenance and acceptance testing for electrical power equipment and systems, as well as a standard that addresses the certification of electrical testing technicians. NETA is an association of leading electrical testing companies comprised of visionaries committed to advancing the industry standards for power system installation and maintenance to ensure the highest level of reliability and safety.