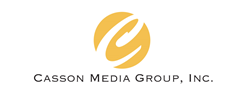 Mike Casson stated, "We believe that the JOBS Act is the most significant change in the securities laws in over 75 years, but for both companies and investors to benefit, a new infrastructure has to be developed. Education and access are essential."
Dallas, Texas (PRWEB) March 04, 2016
Casson Media Group, Inc., a Dallas-based company, has been delivering investment marketing and database services to the Financial Community since early 2000. Shortly after Congress passed the JOBS Act of 2012 Mike Casson, President and CEO observed that publicly marketing private securities presented both opportunities and challenges.
Based on over three decades of experience helping hundreds of companies acquire thousands of new investors, Mike concluded a new type of Investment Bank was needed to connect thousands of startup and small companies with over 50 million prospective investors.
Although the JOBS Act of 2012 enables individuals to participate in the "Next Big Thing," the vast majority have never even invested in a private company. The intent of the legislation is to make it easier for small companies to access capital from the public, who for the most part have been shut out of one of the greatest wealth creating opportunities of our time. However, most startup and small companies are not prepared to structure, develop, market, "advertise" (generally solicit) and sell their private securities offerings to the public.
Casson Media Group is developing a leading "New Media" 21st Century Investment bank that serves both client companies and investors. Mike Casson stated, "We believe that the JOBS Act is the most significant change in the securities laws in over 75 years, but for both companies and investors to benefit, a new infrastructure has to be developed. Education and access are essential."
Using advanced digital and social media technologies, Casson Media Group has launched an on-going video series, loaded with content, tools and industry insights to educate individual investors on the risk and rewards of private investing. This educational series will help them locate and select investments in private companies best suited to support their personal financial objectives.
Casson Media Group also is actively seeking client companies for which a capital infusion has the potential to drive rapid growth and provide excellent investor returns.
To fund the continued build out of the infrastructure required to efficiently connect thousands of companies with millions of prospective investors, Casson Media Group, Inc. is offering to a limited number of accredited investors, and for a limited time, an opportunity to invest in the "New Media" Investment Bank of the Future.
Introduction to CMG video: http://www.cassonmediagroup.com/cmgpromo
Watch CMG overview video: http://www.cassonmediagroup.com/cmg1