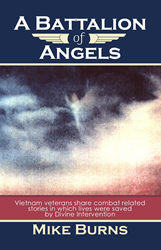 This is not about me. It is my effort to pay tribute to my 'brothers' for their service/sacrifices during a miserable period in our history.
Valley Mills, TX (PRWEB) April 05, 2016
Mike Burns, a Vietnam Veteran himself, wanted to pay homage to his "brothers" and share their goosebump-inducing stories with the world. Using the Locator section of the Vietnam Veterans of America magazine, he contacted them, listened to their stories, and captured them for posterity in this beautiful tribute.
Mike stated, "This book was not completed without difficulty. Along with contributions from those who shared their stories came painful memories and conversations about experiences seldom, if ever, discussed. None of these veterans contributed for personal attention. Instead, it was their desire to leave something meaningful in writing for family members, and to share their experience with divine intervention, be it the hand of God, or the work of His angels."
The book's cover photograph was taken by Army veteran Doug Berg during his 1969–1970 service in Vietnam. While near Pleiku, Doug took the photo in an effort to capture the vivid colors of the setting sun. Not until he got back home and the film was developed, did he notice what appears to be an angel, centered and floating above the battlefields of Vietnam. Doug says the angel was not visible at the moment he took the photo.
Mike has made it very clear that this project is not about him; his goal is to thank these guys for their service and sacrifices during a miserable period in history. In his Epilogue, he writes, "To each of you who contributed to this book, I thank you my Brothers. Your desire to share your experience with divine intervention was the easiest part of your contribution, as I knew it would be. To all who served in Vietnam, I thank you and salute you. To all who serve our country, I thank and salute you as well. And, as my Vietnam Veteran Brother Thomas Oliver would say, God Bless You."
A portion of the proceeds from the sale of this book will be donated to Vietnam Veterans of America. To purchase a copy from Mira Digital Publishing, click on this link: https://mira-booksmart.myshopify.com/products/a-battalion-of-angels
During the years of 2011 through 2014, Mike self-published two books for local interest, in which he paid tribute to twenty-seven of his county residents who had served in Vietnam. During a Veteran's Day ceremony in 2015, Mike was awarded the "Distinguished Citizen Medal" by the Bosque River Valley Chapter (Texas) of the Daughters of the American Revolution, for his continued efforts to pay tribute to Vietnam Veterans. He is proud of his service in Vietnam, and proud of his service in the United States Military.
Mike Burns volunteered for Vietnam and served as a squad leader with the U.S. Army Military Police in the Central Highlands Province of Binh Dinh, from December 1966 to December of 1967. His duties consisted of village and town patrols, convoy escorts, road recon, and the collection and confinement of wounded enemy soldiers. After completion of service in Vietnam, he was assigned to Fort Bragg, North Carolina, where he was awarded the Soldier's Medal for Heroism for an incident that occurred on September 17, 1967 near the village of Binh Dinh, Vietnam.