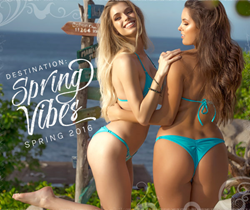 Sports Illustrated Swimsuit continues to take notice of TeenyB's Brazilian designs by selecting several of their bikinis for the fifth year in a row!
Belleair Beach, FL (PRWEB) March 04, 2016
TeenyB is thrilled to announce the release of their new 2016 Spring Line. With temperatures on the rise and spring break calling, it's no wonder the Brazilian inspired luxury bikini company is in high demand this season with exciting new prints, exclusive trims, and flattering styles.
TeenyB as a brand is continually striving to refine and cultivate unforgettable product lines by strategically expanding their bikini styles each season based on consumer feedback.
Stephanie Moore, TeenyB's Creative Director, describes the Spring Bikini Release as "dynamic, modern, and sensual. This year we have really honed in our must-have bikini styles. We focused on developing statement pieces in core solid colors with a splash of playful patterns, as well as providing exclusive TeenyB trims. This season's bikini offering allows new and loyal consumers to evolve their existing bikini wardrobe with interesting and innovative trend updates to their TeenyB favorites. Maintaining a fashion forward bikini aesthetic with a timeless iconic feel is what we have strived to create for our growing brand."
With their heightened attention to detail, Sports Illustrated Swimsuit continues to take notice of TeenyB's Brazilian designs by selecting several of their bikinis for the fifth year in a row. The 2016 Issue features TeenyB bikinis on quite a few models. All-stars like Nina Agdal and Chanel Iman, and mainstays like Rose Bertram and Emily Didonato, are wearing some favorite TeenyB pieces. New rookies Bo Krsmanovic and Sofia Resing rocked their sets in TeenyB, and potential newcomer Daniela Lopez sported a coveted piece from the TeenyB line. Shop the TeenyB bikini looks that have been featured in Sports Illustrated Swimsuit at http://www.teenyb.com/sports-illustrated-swim.aspx. View more content featuring these incredible models in TeenyB bikinis at http://swimsuit.si.com.
Some fresh spring additions to the TeenyB lineup include newly designed Tie-Side Brazilian Bikini Bottoms in three different variations. Each offers a flattering and alluring fit with adjustable tie-sides featuring exclusive TeenyB beads. The full coverage Tie-Side Rio Pucker Bikini Bottom is perfect for someone who loves the shaping of a pucker bikini, but prefers a little more coverage. Taking it a step further are the sensual Tie-Side Amalfi Bikini Bottom and enticing Tie-Side Brazilian Bikini Bottom with these variations offer moderate coverage without compromising the sexy charm of the brand.
Listening to loyal customers' requests and reviews, TeenyB continues to re-imagine and modify their popular Cheeky Bikini Bottom expanding its style availability. This bikini bottom stays in demand because of its flattering and superb fit. New modifications to this coveted essential style include the Mid-Rise Cheeky Thong from the TeenyB Sirens Line which includes signature flexible gunmetal mesh trim sides, and a provocative cut-out version called the Peekaboo Cheeky in TeenyB's Downtown Line with genuine Swarovski crystal trims and comfortable narrow binding.
In addition, TeenyB has some new spring prints that stand out with bright, bold neon colors and sophisticated, subdued earth tones.
The new 2016 Spring Line can be viewed in its entirety at http://www.teenyb.com/whats-new.aspx.
See TeenyB Bikini Couture's entire collection at http://www.teenyb.com