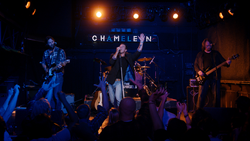 Los Angeles, CA (PRWEB) March 02, 2016
In the wake of The 88th Academy Awards, diversity is a hot topic in Hollywood. With an exceedingly homogeneous stream of white, male Oscar winners, the 2016 awards actually gleaned a silver lining for female filmmakers in particular. Since the beginning of The Academy Awards, only one woman has ever taken home the award for Best Director (Kathryn Bigelow for Zero Dark Thirty, 2010) and to date, no female has ever been nominated for Best Cinematography. In fact, in the 88 years of The Academy Awards, only 16 percent of all Oscar nominees have been women.
While Hollywood still has a ways to go in creating a more inclusive and diverse industry environment, women had better year than usual in 2016, taking home wins in quite a few categories. Sara Bennett became the first woman visual effects supervisor to win an Oscar for Ex Machina. Spotlight became the first film with two female producers to win Best Picture. Also, women won or shared a win in the categories of Documentary Short, Live Action Short, Production Design, Makeup, Costume Design, and Film Editing.
Likewise, there were many celebrated, and Oscar-winning, female protagonists and female-driven stories including Room, Brooklyn, Mad Max: Fury Road, A Girl in the River: The Price of Forgiveness, and Amy.
On March 19th NewFilmmakers Los Angeles (NFMLA) celebrates women in film at its latest red-carpet screening event in honor of Women's History Month. This month will include a shorts program showcasing the Alliance of Women Directors (AWD), a shorts program spotlighting female storytellers and female-driven stories, and a feature film program, which was produced by a crew mainly made up of women. In between films, audiences can check out check out filmmaker Q&As or meet and mingle with one another in the premium 1150 Olive lounge and balcony over cocktails in Downtown LA.
Shorts Program #1 - Alliance of Women Directors Showcase
Poor, Deaf Kid - Directed by Patsy Koch-Johns
Written and performed by Arthur McWilliams IV, POOR, DEAF KID radiates the pain, promise and misunderstanding that are often times seen in the face of students dealing with poverty – especially those experiencing a disability, trauma, or violence.
Poor, Deaf Kid is a short documentary film, which calls for change and awareness for students under the heavy weight of poverty. Originally created as a PSA for Nebraska Loves Public Schools, it makes its world premiere at NewFilmmakers Los Angeles.
The Ballad of Snake Oil Sam - Directed by Arlene Bogna
An alchemist driven by ambition embarks on a mystical journey in pursuit of redemption.
Writer/Director and AWD member, Bogna enlists cinematographer Nathan Levine-Heaney (Guardians of the Galaxy, Thor: The Dark World, Agent Carter) and editor Billy Peake (Gone Girl, The Hunger Games: Catching Fire) to craft a visual odyssey, where the camera work is just as much a character as the actors.
Zero Sight: Bad Call - Directed by Liz Rizzo
Gamer girl Veronica gets real power in her hands when she steals a mysterious woman's phone during a one-night stand gone south. Now a single anonymous text message can kill anyone she wants. And she'll have to use all her first-person shooter skills when one bad call has her scouting a real professional assassin across suburban rooftops.
Short film director, Rizzo has worked on over eleven short films. In Zero Sight: Bad Call, she works with cinematographer Fady Hadid (Mad Max: Fury Road, Godzilla, 300: Rise of an Empire) to craft a video game-like quality to the film and really put audience members in the seat of a first-person shooter game.
Old Guy - Directed by Maria Burton, Ursula Burton, Jennifer Burton, Gabrielle Burton
Old Guy is a comedic short take on the stereotyped image of aging in the media.
Created by Five Sisters Productions, which is a company of five indie filmmaking sisters, Old Guy makes its world premiere this month featuring a charismatic cast. Roger V. Burton (The Tonight Show with Jay Leno) plays the aspiring "old guy" actor and is opposite his agent, Peri Gilpin, who is most well-known for her role as Roz Doyle on Fraiser,
Shorts Program #2 - InFocus: Female Filmmakers and their stories
The Aquarium - Directed by Jacobie Gray
A young girl seeking solace in underwater worlds to escape her volatile parents makes the ultimate physical sacrifice for a school excursion to the Aquarium.
Written and directed by Gray, The Aquarium is Gray's second short film. The Australian actress has acted in several films and has recently transition into directing as well.
Headlong - Directed by Nadia Bedzhanova
Alice steps out of her comfort zone to share a spontaneous moment with her teammate.
Writer/Director Bedzhanova is a Russian filmmaker who has worked on over fifteen short independent films and is screening for the second time with NewFilmmakers Los Angeles. She was born in Moscow, Russia, where she got her BFA in photojournalism and shortly after moved to New York City for her masters degree in film directing. She wrote and directed a short film "Adrift," which screened with NFMLA in 2013.
Still Life - Directed by Seri DeYoung
When Franci finds out she's been invited to interview for an art college, she feels like her dreams are starting to come true. Now all she has to do is break the news to her co-dependent, substance abusing mother.
DeYoung not only wrote, directed, and produced Still Life, but also acted in it. Acting alongside DeYoung is Still Life writer/producer Hope Jaymes, who has worked on several other projects with DeYoung.
Hoss - Directed by Christine Boylan
When an earthquake destroys the west coast, a cowgirl named Burke roams the Malibu hills looking for a friend and her own redemption -- what she finds instead is bloody vengeance. Redemption Costs. Revenge is Free.
Hoss is a classic western in a contemporary setting. The story takes place after a disaster has crippled the sea-level areas of the west coast, turning the hills of Los Angeles into a Lawless Territory.
Film director and writer, Boylan, has worked on television series such as Once Upon a Time and Castle. Hoss features actress Lyndsy Fonseca (Kick-Ass, Nikita, How I Met Your Mother) as the fiery female protagonist.
Daisy - Directed by Nancy Paton
"Daisy" depict the last days of a thirteen-year-old girl called Daisy, who suffers from a severe disease, and by chance meets Peter, an Iraq War veteran who suffers from drug addiction. Like Peter Pan, he is stuck in Neverland and Daisy, like Wendy, inspires him to change his ways. Daisy helps Peter learn to appreciate life, find home, but most importantly find love, something that she will never experience. In the end, audiences are left wondering what such a powerful little girl could have done with a lifetime of days.
Paton, an Australian/Polish director, wrote Daisy whilst working at Great Ormond Street Children's Hospital in London and made her directorial debut in directing it. She worked with a fantastic cast including Max Brown (The Tudors, Beauty and the Beast (TV series) ) as Peter and Hattie Gotobed (Snow White and the Huntsman, Jack the Giant Slayer) as Daisy. Daisy makes its LA premiere with NewFilmmakers Los Angeles.
Feature Program
All In Time - Directed by Chris Fetchko & Marina Donahue
A dramatic comedy about life, love and passion, All in Time tells the story of Charlie who quits his job to move home to Pennsylvania to manage his favorite rock band. His supportive girlfriend shares his love for the band, until struggles within the band force both Charlie and his girlfriend to make choices that will impact their lives forever.
Writing and directing team Fetchko and Donahue lead an all-star cast in this music-filled indie movie. Newcomer, Sean Modica (Grand Theft Auto: Vice City), who plays Charlie, is accompanied by Lynn Cohen (Munich, The Hunger Games: Catching Fire), who plays Mrs. Joshman, Jean-Luc Bilodeau (Baby Daddy, LOL), who plays Clark, and Vanessa Ray (Blue Bloods, Pretty Little Liars), who plays Rachel. The crew is also joined by veteran cinematographer David M. Dunlap, who is known for his work on Shaun of the Dead, Forrest Gump, and Goodfellas.
Located in Downtown LA, 1150 Olive is the Presenting Venue Sponsor of NewFilmmakers LA film festival. Founded in 2007, NFMLA has screened over 1250+ films from over 67 countries. The organization provides a forum where filmmakers can be recognized with title supporters Sony Pictures Entertainment, TheWrap, SAG-AFTRA, and FilmLA.
For information or to reserve tickets to the NewFilmmakers LA March 19th 2016 screening, please visit http://www.nfmla.org.