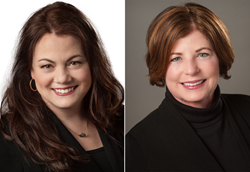 We are pleased North American Title will now be part of this neighborhood. We are even more pleased to welcome Susie Nichols and Patty Zesch to open this office as well as to work with Jeff Fielder.
Dallas, Texas (PRWEB) March 03, 2016
North American Title Co. (NATC) has joined the neighborhood of Lakewood in East Dallas, opening a new office at 6301 Gaston Ave. at La Vista. Title industry veterans Susie Nichols and Patty Zesch have moved to NATC to open this new location. They will be joined by Escrow Officer Jeff Fielder.
"Lakewood is such a unique, beautiful neighborhood just west of White Rock Lake, with homes boasting impressive Tudor, Craftsman and Spanish architecture dating from the 1920s and 1930s," said Scott Moize, NATC Dallas-Fort Worth division manager. "It has been a desirable location for many years for buyers who are looking for an easy commute and top-notch neighborhood maintenance.
"We are pleased our office will now be part of this neighborhood, a location for buyers, sellers and their real estate agents to close on their home acquisition or sale," added Moize. "And we are even more pleased to welcome Susie Nichols and Patty Zesch to open this office, and to work with Jeff, who is also well known in the East Dallas market."
Nichols and Zesch both come to NAT from a national title company. Nichols, the office's managing escrow officer, began her title industry career in 1992 and has worked in the Lakewood area since 1998 for two local affiliates of large national title companies. She also was on the board of the East Dallas Development Center from 2002 to 2008, serving as secretary, vice president and finally as president.
"I moved to North American Title because of the company's culture, in that it provides the support system that offers the resources I need to be truly effective for my customers," said Nichols. "The opportunity to work with a company that understands what makes Lakewood special and could bring that superior service to the neighborhood was something I did not want to pass up."
Zesch, a veteran business consultant, has worked in the title industry since 1996. Zesch is a graduate of the Texas Real Estate Leadership Program, a member of the MetroTex Association of Realtors and a former board member of the Greater East Dallas Chamber of Commerce.
The new Lakewood office is located at 6301 Gaston Ave., Suite 150, Dallas, TX 75214, telephone number (214) 845-4090.
About North American Title
With well over 1,000 associates and a vast network of branches from coast to coast, North American Title (NAT) is among the largest real estate settlement service providers in the United States. Consisting of both agent and underwriter operations, NAT reported annual net revenues in fiscal 2014 of $189 million. The company also has the resources and stability of a wholly owned subsidiary of an S&P 500 company with over $12.9 billion in assets (fiscal quarter ending Nov. 30, 2014). North American Title's agency network operates nationally under the name North American Title Co. (NATC), and is located in 18 of the fastest-growing states: Arizona, California, Colorado, Delaware, Florida, Illinois, Indiana, Maryland, Minnesota, Nevada, New Jersey, New York, Ohio, Pennsylvania, Texas, Utah, Virginia and Washington, D.C. Through our relationship with our expanding affiliate network, NATC provides real estate settlement services in all 50 states. NAT is headquartered in Miami, Florida. To learn more, visit http://www.nat.com