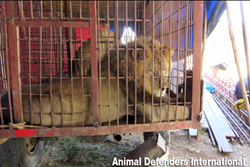 "We are so excited to support ADI in the transport of thirty-three rescued lions to sanctuary in Africa." Colleen Kinzley, Oakland Zoo
Oakland, CA (PRWEB) March 04, 2016
Oakland Zoo has partnered with Animal Defenders International (ADI) in an effort to return thirty-three circus lions in Peru and Columbia to their native Africa. After a nine-year battle with private circus owners in the South American countries, non-profit ADI has secured a forever home for them at a sanctuary in Africa. The effort to return these lions to their native land marks the largest-ever airlift of its kind. With the lions now safe in the custody of ADI, the current goal is to raise the funds needed for transportation of the lions.
After suffering years of confinement in barren cages and a brutal life being forced to perform, the lions are heading to huge, natural habitats at Emoya Big Cat Sanctuary in South Africa. Since 2007, ADI worked in tandem with the governments of Peru and Colombia to eliminate the use of wild animals in circuses.
Almost all of the rescued lions have been de-clawed and many have smashed and broken teeth as a result of their circus life. Oakland Zoo, with a long-standing position against animals in circuses and actively involved in recent legislation that led to Ringling Bros. decision to retire elephants from its shows, was contacted by ADI recently for any help the Zoo could offer in the transportation costs of the lions to Africa.
Oakland Zoo has pledged $10,000 to aid in ADI's rescue effort and hopes (see below) to be able to collect additional donations in support of the lions' flight cost to the South African sanctuary.
"ADI is so grateful to Oakland Zoo for their generous sponsorship of one of the 33 ex-circus lions on our Spirit of Freedom flight from Peru to South Africa. This large-scale animal rescue will have a lasting impact – after such sad, painful lives, new laws in Peru and Colombia have set these animals and others, free. Thanks to the generosity of the public and organizations like Oakland Zoo, these lions will soon be back where they belong, living in their natural habitat, under the African sun. Please help buy tickets for more lions to join this once-only flight to freedom,"
said Jan Creamer, ADI President and leader of the rescue mission in Peru.
A total of $330,000 ($10,000 per lion) is needed to charter a 747 airliner, large enough to accommodate the thirty-three lions and necessary ADI staff.
"We are so excited to support ADI in the transport of thirty-three rescued lions to sanctuary in Africa. Having spent their lives in terrible captive conditions, forced to perform, abused, and neglected they will finally have the opportunity to live out their lives with peace and dignity. Please donate whatever you can to help transport these majestic animals to their forever home," said Colleen Kinzley, Director of Animal Care, Conservation & Research at Oakland Zoo.
Oakland Zoo has started a separate fund via PayPal in the hopes of collecting additional donations for the rescue, titled "Operation Spirit Freedom." Please click on this link to donate to Oakland Zoo's fund for ADI's lion rescue.