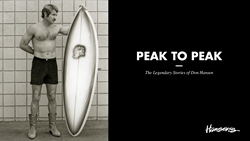 Jack O'Neill gave me a shaping bay and a stack of blanks and said, "Here, start shaping."
San Diego, CA (PRWEB) March 10, 2016
From Don Hansen's humble beginnings in South Dakota to finding his way on the famed North Shore, he has done and seen it all. Hansen Surfboards is honored to share the vision, passion, and amazing journey of one of surfing's most iconic surfboard shapers.
Peak to Peak: Part Two-Learning From A Legend, follows along as Don is drafted into the army and moves up the coast to Santa Cruz, CA. While Stationed at Fort Ord, Don meets legendary waterman and wetsuit aficionado Jack O'Neill, and under the O'Neill label starts to shape his first surfboards.
Don shares what it was like surfing along the California coast in the 1960s, his time in the iconic surf town of Santa Cruz, and working with an eccentric legend like O'Neill. Peak to Peak is a documentary series like no other, giving us in-depth insight into one of surfing's most legendary craftsmen.
Peak to Peak is a once in a lifetime opportunity to follow along as the legendary surfer, outdoor enthusiast, and family man shares the story of his journey to icon status.
Watch Peak to Peak: Part Two-Learning From a Legend here.
Hansen Surfboards
Hansen Surfboards is located in Encinitas, California, with over 20,000 square feet of retail space. Hansen's is still the largest surf shop in San Diego County, and still family owned and operated. With its independent and family based values still at the center of the Hansen's brand, the ongoing passion for providing an unparalleled retail experience hasn't changed. hansensurf.com