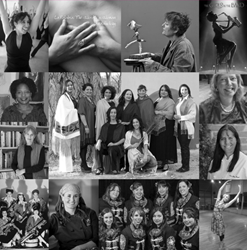 Albuquerque, N.M. (PRWEB) March 03, 2016
Women & Creativity is an annual, month-long series of events taking place in Albuquerque, N.M. in March—Women's History Month—that celebrate women's creativity across disciplines. This year marks the 11th anniversary of the program, which is coordinated by the Harwood Art Center and Artful Life with media partner Edible magazine.
Women & Creativity emphasizes the innovation, collaboration, and leadership of our community's most visionary women with a month-long calendar of events including:
Eleven Featured Events (see list below): inventive, collaborative and inspired programs that integrate a range creative fields including art, poetry, dance, music, sculpture, and multi-disciplinary collaboration.
Play Along Projects: Whether in Albuquerque or Abu Dhabi, Santa Fe or São Paulo, you can participate in our Tête-à-Tête or Poet's Post Trading Cards projects.
Community Calendar: dozens of other extraordinary exhibitions, performances, workshops and other presentations during the month of March—Women's History Month—presented by program partners.
All events are open to the public. Some are free; others have admission fees. For detailed information visit the Women and Creativity website: http://www.womenandcreativity.org.
FEATURED EVENTS
Creative Salons for Women: March 2, 9, 16, 23, 30
What Becomes?/Community Collaborative Sculpture: March 5 & 6
The Roving Table/Community Gathering, Family-Style: March 5 & beyond
Rally/How We Gather: March 6 & March 31
Fierce Females/Women at Work: March 10 & 11
The Likeness of Us/Cross-Generational Art: March 11 & Beyond
EKCO Poets/Spoken Word Performance About Dance and Dancers: March 11 & 12
South Valley Art & Stroll with a Pop-Up Brunch: March 19
Equinox Yoga/108 Sun Salutations and Personal Art: March 20
Burque Noir/Dance, Music, Poetry, Comedy, and Live Visual Art: March 26
Feast for the Senses/Pop-Up Dinner: March 29
For MORE INFORMATION, INTERVIEWS, AND A FULL SCHEDULE OF EVENTS, visit the Women & Creativity website: http://www.womenandcreativity.org or email/call Valerie Martínez at valerie(at)artful-life(dot)org/505-603-0866.