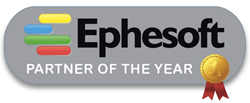 The keys to Zia Consulting's performance are consistency and expertise.
Boulder, CO (PRWEB) March 04, 2016
Zia Consulting, Inc., the leading provider of Enterprise Content Management (ECM) and Intelligent Document Capture business solutions, has been named Ephesoft Partner of the Year Americas 2015—an honor awarded to Zia for the fourth year. Zia will be recognized at Ephesoft INNOVATE 2016 in Irvine, California.
Ephesoft, the leader in providing advanced cloud-ready SmartCapture™ solutions, selects their top partner from a group of nearly 100 value-added resellers (VARs) and system integrators (SI) from around the world. Since Ephesoft has a 100% partner sales model, this award is particularly relevant and important. Zia provides numerous services for Ephesoft and its customers including: document capture assessments, optimization and customization, application and performance monitoring, and more.
"The keys to Zia Consulting's performance are consistency and expertise," according to David Talarico, Executive Vice President Sales, Americas for Ephesoft. "From the largest multi-vendor integrations to specific advanced capture projects, customers quickly gain confidence in Zia Consulting's ability to understand their needs and craft a solution that exceeds expectations."
Zia has proven to be a strong partner for Ephesoft with a focus on innovation, collaboration, education, and service. Including several technical contributions to Ephesoft's ongoing product development, Zia has worked extensively to:
1. Develop vertically targeted solutions with Ephesoft such as Zia Advanced Closing Extraction (ACE) for the mortgage industry, now updated for TRID forms, and Zia Insurance Automation Solutions for claims, applications, and more.
2. Develop cross-vertical or horizontal solutions with Ephesoft, such as In-Process Capture (IPC) from Zia based on the Ephesoft Web Services API's, and Zia Invoice Automation solution leveraging Activiti BPM and ERP integration with systems such as SAP.
3. Co-author the second edition of Intelligent Document Capture with Ephesoft, a book which explores the overarching benefits of intelligent document capture as well as the nuts and bolts of implementation using Ephesoft. The new edition—co-authored with Ike Kavas, CTO of Ephesoft, and three members of the Zia team, Pat Myers, Michael Muller, and Jon Solove—was released in August of 2015.
4. Exhibit and present at leading industry events such as the MBA Technology Conference 2016 and IASA Annual Educational Conference and Business Show.
"We are so honored to be the Ephesoft Americas Partner of the Year for the fourth time," said Pat Myers, EVP, VP of Capture Solutions, and co-founder of Zia Consulting. "Over the past year, we've continued to see document capture solution sales drastically increase as customers realize the value Ephesoft can bring to their enterprise. Being a partner with Ephesoft is a point of pride for us. They have a truly next-generation product that supports effective document capture implementations, saving businesses money and time."
###
Zia Consulting delivers Enterprise Content Management (ECM) solutions that address the content chaos needs of your enterprise to better manage and secure important documents. Our solutions are utilized by leading organizations and tackle the key issues of ECM user adoption, the need for lower total cost of ownership, and a desire for ECM modernization. We bring start-to-finish guidance and customization based on your organization's needs, working closely with your team to enable you to be self-sufficient.