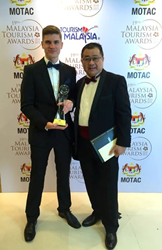 Malaysia is a major destination for Remote Lands and we have seen it rise in popularity amongst our travelers.
New York, NY (PRWEB) March 03, 2016
Remote Lands, the world's leading ultra-luxe bespoke Asia tour operator, is delighted to announce their recent accolade as Best Foreign Tour Operator Americas (United States of America) in the 19th edition of the Malaysian Tourism Awards. This exclusive list is comprised of 65 awards dedicated to local and foreign tourism industry players and media in recognition of their support for Malaysia's tourism growth and development.
Remote Lands offers their luxury clientele a range of personalized, extraordinary itineraries in Malaysia which highlight the country's diverse culture and delectable cuisine as well as its popular white sandy beaches, vibrant coral reefs, dense jungles, high mountains and tropical rainforests.
"We are honored to receive the Best Foreign Tour Operator award in the Malaysian Tourism Awards," said Catherine Heald, CEO and Founder of Remote Lands. "Malaysia is a major destination for Remote Lands and we have seen it rise in popularity amongst our travelers. From the eclectic culture and architecture in the capital city Kuala Lumpur to the diverse wildlife, rainforests, islands, high mountain peaks and Orang Ulu tribal people, Malaysia is a world unto itself and truly offers something for every type of traveler. We look forward to Remote Lands continuing to raise the bar within the luxury travel industry in terms of exclusive, authentic and personalized experiences."
Remote Lands has at least nine fully customizable itineraries exploring Malaysia, starting at $225 per person, per day. Each itinerary may be booked as is, customized to suit individual travelers' wants and needs, or simply used as inspiration to plan an exploration of the diverse country. While the itineraries offer a wide range of differing experiences, they share the same unique and exceptional experiences, unparalleled service, and extreme attention to authenticity that sets Remote Lands apart from others.
Some examples:
Wild Borneo: Kota Kinabalu to the Danum Valley – An ideal starting point for a Malaysia trip, this seven-day Wild Borneo adventure immerses travelers into Borneo's jungles, observing wildlife and exotic flora and fauna in rare, untouched areas. Highlights of the itinerary include observing orangutan babies being fed, walking along the treetops in a canopy tour, cruising down the jungle-lined Sukau river looking for wild elephants, viewing gigantic monitor lizards while lounging in a treetop balcony and a rainforest stroll to discover over 300 species of trees. Rates start at $460 per person per day
Classic Peninsular Malaysia – This 10-day tour explores peninsular Malaysia's must-see spots including a tour of the bustling capital of Kuala Lumpur, a trek through the beautiful Cameron Highlands plantation to see where tea is grown and produced, a visit to the UNESCO-listed sites in Penang, sparkling white sand beaches in Langkawi island and accommodations in luxury hotels. Rates start at $466 per person per day.
Beautiful Malaysia: From Coast to Highlands – This 10-day voyage takes travelers between Malaysia's scenic west and east coast stopping at the UNESCO World Heritage site Georgetown to see sacred temples and colonial houses, lush green tea plantations in the Cameron Highlands, a boat cruise through Taman Negara National Park, snorkeling in the tropical island of Pulau Tenggol and more. Rates start at $320 per person per day.
Diving Borneo's Aquatic Treasures: Sipadan & Mabul – This enchanting seven-day diving adventure explores Borneo's incredible underwater world in some of the world's best dive sites, Sipidan and Mabul, while staying at a luxury floating dive resort. From bright, colorful reefs in Sipidan to the sand bottomed sites of Mabul, travelers will experience a macro diver's paradise with underwater creatures such as greenback turtles, manta rays and ray sharks. The trip will also stop in Kepalai island where participants will dive five small wrecks with diverse and rare marine life such as blue-ringed octopus, ghost pipefish and the colorful mandarin fish.
Jungles of Western Malaysia – This exhilarating 10-day journey explores Malaysia's stunning jungles, featuring ancient rainforests, lush tea plantations and historic towns. Trip highlights include scenic hiking trails, birdwatching, walking high above Taman Negara National Park on canopy bridges, circumnavigating Belum-Temengor Rainforest in a kayak and exploring the rich history of Penang and UNESCO-listed Georgetown.
Other itineraries include exploring the cultural village of Sarawak and staying with members of the famous "headhunting tribe" now known for their friendliness and hospitality; trekking in Borneo's jungles and viewing gigantic monitor lizards and wild elephants; a visit to the Semengogh Oraguntan Rehabilitation Center to observe the endangered creatures playing in their natural habitat; stops at several UNESCO World Heritage-listed sites and National Parks; a trek into Maliau Basis, Borneo's Lost World and more. For more information on Remote Lands' involvement with Malaysia and a comprehensive list of Malaysia itinerary suggestions and experiences, visit http://www.remotelands.com/destination/malaysia.
About Remote Lands, Inc. 
Remote Lands, Inc. creates highly personalized and unique, ultra-luxury holidays throughout Asia. Based in New York and Bangkok, the company specializes in extraordinary experiences that are difficult to arrange and require privileged access to important people and exclusive events, drawing upon Remote Lands' relationships with remarkable people around Asia. Unparalleled service, creative itineraries and extremeattention to detail are what set Remote Lands apart.