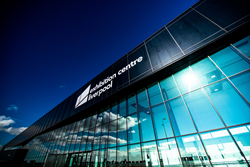 Quadriga provided a cost-effective solution which we are confident will meet our guests' needs. Their consultative approach took into account all of our requirements, we now have a converged solution that all our guests will benefit from.
Theale, United Kingdom (PRWEB UK) 4 March 2016
Quadriga, a leading international provider of Internet and entertainment managed services for the hospitality industry, deploy Sensiq Smart TV solution throughout Liverpool's new Pullman Hotel to provide guests with access to on demand content and integrated WiFi network solution.
Integrated with ACC Liverpool's brand new interconnected sister venue, Exhibition Centre Liverpool, Pullman Liverpool Hotel will offer 216 spacious comfortable bedrooms for relaxing, sleeping and working. This newly-built hotel will open as one of the most stylish hotels in the city.
Pullman Liverpool will be the second Pullman hotel in the UK, and the first outside of London. Pullman Hotels and Resorts are an upscale international group of four and five star hotels. The Pullman network hosts 89 hotels in 24 countries across Europe, Africa, the Middle East, Asia-Pacific and Latin America.
Requirement:
Pullman offers an extensive range of tailored services, innovative technologies and friendly service from attentive staff and this was ACC Liverpool's first hotel venture. While the company benefitted from the wealth of experience AccorHotels offer, it was looking for a technology partner that design and install a converged solution offering high quality WiFi and wired internet access across all the rooms. Also required was a TV system that would offer a better-than-home experience in room for guests and to integrate the back office functions onto a single, resilient network.
Quadriga's Solution:
Quadriga's converged solution not only provided the Pullman Liverpool with all of the above but also saved the client substantial costs in structured cabling. Quadriga's internet solution reduced the number of cables originally thought to be required, with just two running into each room, one of which to cover a fault. The wall plates are used to connect a VOIP Telephone (provided by a Quadriga partner), the Philips Smart TV running Sensiq and a wired internet connection and will have no impact on the future or current network capabilities. By utilising Sensiq on a Smart TV, the hotelier can take advantage of all the revenue making functions of Sensiq on the latest TV models.
Jon Seal, Director of Technical Pre-Sales for EMEA commented:
"More often than not we are finding hotels with similar requirements typically having multiple runs of cable side by side going into guest rooms for Internet, telephone and video - a mixed bag of copper and coax each supporting a separate product from various vendors on separated networks. This type of infrastructure costs more, requires multiple vendors to fix, and makes it difficult to expand or add new applications. Acting as a consultative partner we were able to roll out a complete converged solution."
Hotel and Guest Benefits:
By running the Sensiq solution on Philips Smart TVs, the guest will be able to enjoy an array of content on demand via an easy to use interface, which the client can take advantage of thanks to its customizable capabilities. The TV system also requires no set top box, meaning less hardware to maintain for the hotel. The wall plates will offer excellent WiFi coverage and the reduced cabling will make in room maintenance much easier for the technical hotel staff on site. Public and back of house areas will also benefit from a Quadriga provided network and WiFi solution, allowing the voice telephones to continue in to the back of house areas, enabling them to use a fully converged network and avoiding duplication of switches and other network hardware.
Roger Sharples, Project Manager at ACC Liverpool commented, "Quadriga provided us with a cost-effective solution which we are confident will meet our guests' needs. The company's consultative approach took into account all of our requirements and we now have a converged solution that we are sure our guests will benefit from."
==Ends==
About Quadriga
Quadriga is a leading international provider of guest technology managed services for the hospitality industry and our commitment is to maximise a customers' on-property value and guest satisfaction.
Quadriga provides customers with the flexibility and reassurance that they can obtain a complete, accessible and relevant guest technology solution that meets their business revenue, guest satisfaction and operational efficiency targets, all from a single, financially robust partner. Our value proposition is to provide technology solutions which enable customers to:

Connect with your guests – and guests with the hotel and their world
Control the guest experience and your network and TV environment
Commercialise new business and revenue opportunities
This value is delivered via a 360º integrated and managed service approach to design, build and manage a complete network and technology ecosystem focussed on the needs of hospitality and guests.
Quadriga offers a single point of contact for a range of managed services covering Networks, WiFi, Hospitality TVs, Interactive TV & Mobile platforms and Financial Services. These integrate multiple hardware and software components, proprietary to Quadriga or via 'best-in-class' partners, with an unrivalled range of multimedia content solutions and expert operational and professional services.
Quadriga has more than 30 years' experience serving the hospitality sector and operates in the key strategic geographies of USA, Europe, Middle East and Africa, supporting more than 300,000 guest rooms including 100,000 with HSIA. The company has unrivalled knowledge and approaching 15 years' experience in managing hotel networks, Internet provision, digital IP systems and delivering IP over coax networks.
Quadriga will continue to leverage its capabilities, its partnerships and deep knowledge of the hospitality sector to create solutions that harness the latest technologies and meet ever- evolving customer business needs and guest expectations.
For more information, please visit http://www.quadriga.com
Press Contact
Vicky Daniels
Group Marketing Manager
Quadriga
Telephone : +44 (0) 118 916 7181
E-mail : Vicky.Daniels(at)quadriga.com
Rory Flashman
Account Director
Spa Communications for Quadriga
Telephone : +44 (0) 1892 511413
E-mail : rflashman(at)spacomms.com