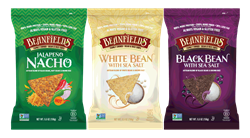 Los Angeles, Calif. (PRWEB) March 07, 2016
Beanfields Snacks, makers of Beanfields Bean and Rice Chips, continues to innovate in the chip aisle. To honor Beanfields Snacks flavorful and crunchy trailblazing, the company was named a Hartman Group Breakout Brand of 2015.
Beanfields is committed to disrupting the widespread use of cheap filler and empty calorie ingredients found in so many other snacks by using a highly sustainable and healthy protein source – beans. All Beanfields Chips are made with an artisan blend of beans and brown rice. Beanfields Chips are always vegan, gluten-free, Non-GMO Project Verified, kosher, and allergy-friendly - all while offering great taste and exciting flavors that compete with conventional snack brands.
To continue pushing the snacking envelope, Beanfields announced it will introduce three new chip flavors: the world's first vegan Jalapeño Nacho chips, Black Bean with Sea Salt, and White Bean with Sea Salt. These enticing new flavors will win over the pickiest chip connoisseurs with the Beanfields well-loved tender crunch.
As the Hartman Group said, "It [Beanfields] advertises a clever span of key ingredients, such as a progressive macronutrient position of having minimal carbohydrates, moderate fat content and significant protein content – all because of the inherent content of the snacks and not through processed additives." The Hartman Group goes on to say, "However, much like búcha, Beanfields hedges against the potential trail downside of its emerging attributes with something more palatable: traditional, well-known flavors that you could find even from Doritos."
Roy Glidden, co-founder and executive vice president of sales for Beanfields, said, "We are very particular about our ingredient standards and flavor profiles, so creating and introducing new items is a very big deal. I am very excited to show the world what we have accomplished."
Beanfields' NEW Jalapeño Nacho Bean and Rice Chips are perfect when you've got that craving for a delicious plate of cheesy nachos layered with jalapeño peppers. With a spicy kick Beanfields Jalapeño Nacho chips will excite your taste buds with their fiery, cheesy flavor straight out of the bag!
Beanfields' NEW White Bean with Sea Salt Bean and Rice Chips dazzle with a golden color that rivals any corn tortilla chip. With a light, crisp flavor the chips are perfect for snacking, yet thick enough to dip with confidence. With only four simple ingredients — navy beans, brown rice, safflower or sunflower oil, and sea salt — these chips satisfy everyone's crunch cravings.
Beanfields' NEW Black Bean with Sea Salt Bean and Rice Chips make a dramatic contrast in any meal or snack. This savory chip looks like a familiar blue corn chip, but features much more fiber and protein, and way less fat. This four-ingredient chip is made from black beans, brown rice, safflower or sunflower oil, and a sprinkle of sea salt.
The new Beanfields flavors continue the tradition of delivering award-winning taste along with at least 100 percent more fiber, 100 percent more protein and 29 percent less fat per serving, when compared to typical corn tortilla chips which have 2 grams of protein, 2 grams of fiber and 7 grams of fat per serving.
Beanfields Snacks is continuing to increase its distribution. In April Beanfields Bean and Rice Chips will be placed in 25 Target stores in the Los Angeles, Calif. area, and will be featured in the deli section of all Publix supermarkets, over 1,000 stores.
Increased distribution at mainstream grocery stores allows Beanfields to reach even more consumers and influence America to snack healthier. To bridge the gap from natural food consumers to mainstream snackers, Beanfields redesigned their packaging to convey the bold flavor and better nutrition of the bean and rice chips. The updated packaging lets chip aisle shoppers know that Beanfields isn't a niche health food — it's a delicious way to eat that competes with the big boys found in the same aisle. Parents will love it when their child points at Beanfields' bright bags instead of the unhealthy neighbors on the same shelves. Beanfields is helping shoppers make peace with snacking — with packaging that features tantalizing ingredients and the nutritional benefits of the better-for-you snacks.
And, for the first time, Beanfields has added the B Corp logo to the front of the package to show shoppers Beanfields' commitment to the B Corp mission to use business as a force for good.
Find Beanfields Snacks at booth number 5061 at Natural Products Expo West, which takes place March 11-13, 2016, in Anaheim, Calif.
About Beanfields
Beanfields PBC, makers of Beanfields Bean and Rice Chips, is a family-owned Public Benefit Corporation and a Certified B Corp. Beanfields Bean and Rice Chips indulge your taste buds with every delicious crunch with ten tempting flavors: Sea Salt, Nacho, Pico de Gallo, Jalapeño Nacho, Black Bean with Sea Salt, White Bean with Sea Salt, Barbecue, Ranch, Salt & Pepper, and Simply Unsalted. Beanfields Chips are always vegan, certified gluten-free, Non-GMO Project Verified, kosher, and allergy-friendly. Beanfields Bean and Rice Chips can now be found in all 50 states and internationally in Canada, Australia, the U.K., and other countries.
Full-sized bags of Beanfields Bean and Rice Chips suggested retail price is $2.99-$3.99. Snack-sized bags are $1.19-$1.49.