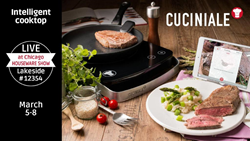 With Cuciniale, cooking is as easy as snapping a photo with your smartphone--a few taps and you're done.
Chicago, Illinois (PRWEB) March 04, 2016
Cuciniale presents the intelligent cooktop.
Cooking appliances are becoming connected and can be operated by smartphone or tablet, but none of them answer the essential question of whether or not the food is cooked correctly.
At the International Home + Housewares Show in Chicago, Cuciniale will present the world's first intelligent and portable cooktop. This cooktop takes all uncertainties away. The optimal heat and cooking time is set according food properties, backed by science, and cooked to individual preference.
Experts know how to cook a steak, when to mix ingredients, and how to cook the perfect risotto. Unfortunately most recipes give imprecise information on temperature and cooking times, which means some dishes do not work out as anticipated.
Cuciniale solves for these variables, allowing consumers to prepare restaurant quality meals at home. Gone are the days of overcooked fish, or an overdone steak. With the intelligent cooktop by Cuciniale, a home chef has the tools for a perfectly cooked meals with just a few finger taps. With Cuciniale home chefs prepare fish, meat, poultry, vegetables, rice dishes such a risotto, pasta, eggs, with consistent results every time.
Cuciniale allows you to braise, boil, sauté, steam, deep-fry, etc. – whatever your recipe calls for—and cook to individual preference. The cooktop comes with the GourmetPilot® app, and it's accompanying GourmetSensor®. Both are connected via Bluetooth guiding cooks step by step from a smartphone or tablet.
"In the app we have built in the knowledge of some of the premier chefs in Europe. With the Gourmetsensor, the heat and cooking time is adapted to whatever it is you're cooking. The sensor accounts for weight, composition of protein, fat and water. Based on this procedure, we can guarantee success to our users", explains Philipp Ochtendung, development director of Cuciniale.
"Our cooktop is a similar revolution to the invention of the digital camera. Today, cooking can be as easy as taking a picture with your smartphone", explained Holger Henke, CEO.
Many professional chefs are inspired by Cuciniale, as is Carmelo Greco, Michelin Star chef in Frankfurt. "As an Italian, I of course know how to cook perfect risotto. Yet with Cuciniale, I have a great kitchen tool. While the risotto is still cooking, I can pursue other activities as the Gourmetpilot will remind me when it is time to stir. With Cuciniale, everyone can cook excellent risotto."
The new cooktop is the logical extension of the existing technology and enables users to reach their cooking preferences purposefully and safely, no matter how experienced cooks they are.
German design, German engineering, now available to anyone looking to improve their cooking.
For further information please visit http://www.cuciniale.com