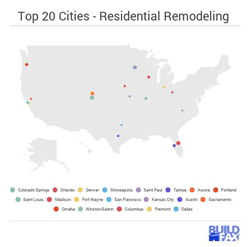 There's no doubt about it. Across the US, we're seeing a massive boom in residential remodeling.
Asheville, NC (PRWEB) March 04, 2016
BuildFax, a company that delivers data-driven insights for smart property decisions, has announced today its first annual ranking of top US cities for residential remodeling. Read the full article HERE.
Residential remodeling across the nation increased by 9% between December 2014 and December 2015, and has increased 40% since 2010.
"There's no doubt about it. Across the US, we're seeing a massive boom in residential remodeling," said Holly Tachovsky, CEO at BuildFax. "And some cities are off the charts. In Colorado Springs nearly 15% of homes were remodeled last year, and 12% in Orlando!"
This list, which names the top 20 cities in the US for residential remodeling, was calculated using the nation's largest database of construction records, comprising over 23 billion data points. BuildFax looked at the 100 largest cities by population across the country and the number of residential remodeling projects per household to get their results.
The Top 20 US Cities for Residential Remodeling are:
1. Colorado Springs, CO
2. Orlando, FL
3. Denver, CO
4. Minneapolis, MN
5. Saint Paul, MN
6. Tampa, FL
7. Aurora, CO
8. Portland, OR
9. Saint Louis, MO
10. Madison, WI
11. Fort Wayne, IN
12. San Francisco, CA
13. Kansas City, MO
14. Austin, TX
15. Sacramento, CA
16. Omaha, NE
17. Winston Salem, NC
18. Columbus, OH
19. Fremont, CA
20. Dallas, TX
"As more and more people renovate their homes, the surrounding property values go up too. So even if you're not actively fixing your place up, you'll see the comps in your area increasing in value," said Holly. "As economic conditions appear to be consistent with those of 2015, we expect residential remodeling to continue at the same pace."
About BuildFax:
BuildFax is trusted by the biggest insurance and financial companies in the world to deliver deep insight into property decisions. Smart decisions start with truth. With over 23 billion pieces of building permit data, we deliver that truth as property intelligence through the BuildFax Enterprise, BuildFax Analyst, and BuildFax Report products. Smart property decisions start here.