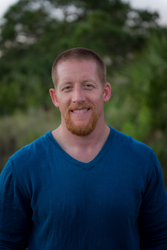 The hardships, oppression and betrayals that David faced are much like the challenges many of us face in our own lives. By reading about the way David endured incredible tragedies and still trusted God has helped me and will encourage others, too, I hope.
Tampa, FL (PRWEB) March 08, 2016
Former U.S. Marine, Charles Dause, has written a book, The King: Ruler of Israel, which brings to life the triumphs and tragedies of Old Testament hero David as he battles to become the King of Israel. The Bible-based story is historical fiction written for those who may or may not know the Bible story of the shepherd boy who becomes King David. The author, deployed twice to Iraq in 2003 and 2004, is familiar with war in the Middle East and brings characters to life in a way to make readers feel like they are cowered in caves and marching through deserts with David as he fights for 20 years to claim the crown he was promised.
Author and former Marine Corporal (E-4) Charles Dause says, "I came home from Iraq, had no purpose and little drive to find one. I became a correctional officer, simply because I needed a job. After several years working there, I went on a mission trip to Uganda in Africa which changed my life." Dause is now on a mission to cultivate interest in Bible stories and educate readers of the power of faith in God. He explains, "The hardships, oppression and betrayals that David faced are much like the challenges many of us have felt in our own lives. Just by seeing the way David endured incredible tragedies, and still managed to obey and trust God, has helped me and, I think, will give others encouragement, too."
Dause, now a prison chaplain in Zephyrhills Florida and working on a master's degree in theology at Liberty University, also writes a blog: http://www.AMansTakeOnTheBible.com which tackles contemporary issues. The King: Ruler of Israel is being published by Westbow Press and is available at Amazon.com and BarnesandNoble.com.
Hardcover and paperback: 210 pages
Publisher: Westbow Press (February 22, 2016)
Language: English
ISBN-13: 978-1512727982
Product Dimensions: 6 x 0.6 x 9 inches
About Author Charles Dause:
Charles Dause was born in Lexington, Kentucky, in 1981. After high school, Charles enlisted in the US Marine Corps and served as an infantryman. After his discharge, Charles returned to Florida and became a corrections officer working for the Florida Department of Corrections. In 2010, Charles took part in a mission trip to Uganda through his church. Seeing God work in the hearts of not only the Ugandans but also the volunteers on the trip opened up his eyes to the great love of our Lord and Savior. Charles now works as a chaplain at a correctional facility and is a devoted husband and father.
About the Publisher:
Thomas Nelson, the largest Christian publishing company in the world and the seventh-largest trade book publishing company in the U.S., partnered with Author Solutions LLC to create WestBow Press. WestBow Press authors produce a fascinating collection of titles full of interest and character. WestBow Press provides an opportunity to deserving authors with goals to fulfill and dreams to achieve.