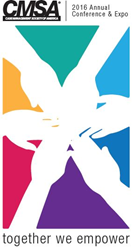 Little Rock, AR (PRWEB) March 07, 2016
Early bird pricing for the premiere case management event will be ending March 31st. The chance to attend the only case management conference that stretches across the entire healthcare continuum, in Long Beach, CA, at the most affordable price will only be valid for a few more weeks.
Registration is open, and installment plans for payment are still available for the 26th Annual Case Management Society of America (CMSA) Conference & Expo, the sole health care event designed to deliver clinical, professional, regulatory and personal growth for care management professionals across the full health care continuum. The redefined conference, featuring several new elements, will be held June 20-June 24, 2016 at the Long Beach Convention Center in Long Beach, CA.
This year's content focuses on developing skills needed to collaborate and build community within and across teams and practice settings. It will encourage participants to collaborate and share experiences with, and develop a professional network of case management practitioners both during and subsequent to the conference. Attendees will be able to broaden and deepen their capacity to engage with populations that are ethnically, culturally and socially diverse. They will be able to establish a professional leadership development plan that incorporates career goals and important milestones; while applying networking and mentorship principles to enhance growth. All participants will recognize the value of advanced and continuing education for case managers and quality education for patients in improving care, optimizing outcomes, and increasing satisfaction. This will all be accomplished through educational sessions, poster presentations, and professional networking opportunities with thought leaders driving the profession.
The 2016 event is expected to welcome nearly 2,000 convention attendees and healthcare professionals to the Long Beach Convention Center for a five-day conference with additional pre and post-conference activities. In addition, over 200 companies will welcome attendees at CMSA's 2016 Expo, providing information and demonstrations regarding the most current products and services, and new contacts that will advance their abilities to recommend and implement the latest technologies when attendees return to their practice.
This year's keynote presentations will feature: Eric Coleman M.D., MPH Founder of Coleman Transitions Intervention and Dr. Josh Luke FACHE, Founder of National ACO & Bundled Payment Collaborative; Best-selling author, speaker, and life coach dedicated to helping people, Valorie Burton; And, "Theater of the Mind" mind reader, Robert Priest. In addition this year CMSA will be offering two optional pre-conference tours complete with CE's.
With the best value cost per CE credit, installment plans for payment available, early bird pricing, an Apple watch giveaway and several unique pre-conference sessions available, CMSA's 26th Annual Conference & Expo is not to be missed. Together we empower, and drive the areas of case and care management to the next level. Learn more and register for CMSA's 25th Annual Conference and Expo at cmsa.org/conference.
About the Case Management Society of America (CMSA)
Established in 1990, the Case Management Society of America is the leading non-profit association dedicated to the support and development of the profession of case management. CMSA serves more than 30,000 members, subscribers and participants, and 75 chapters through educational forums, networking opportunities, legislative advocacy and established standards to advance the profession. For more information, visit http://www.cmsa.org or follow CMSA on Twitter @CMSANational