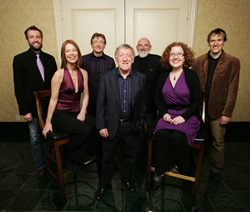 New Brunswick, NJ (PRWEB) March 04, 2016
State Theatre presents legendary Irish band The Chieftains with Paddy Moloney on Friday, March 11, 2016 at 8pm. Tickets range from $35-$75.
Six-time Grammy® Award-winners, The Chieftains, have been highly recognized for reinventing traditional Irish music on a contemporary and International scale. The Chieftains were formed in Ireland in 1962 by Paddy Moloney, one of the top traditional folk musicians in Ireland and around the world. Their ability to transcend musical boundaries to blend tradition with modern music has notably hailed them as one of the most renowned and revered musical groups to this day. After more than 50 years of making some of the most beautiful music in the world, The Chieftains' music remains as fresh and relevant as when they first began.
As cultural ambassadors, their performances have been linked with seminal historic events, such as being the first Western musicians to perform on the Great Wall of China, participating in Roger Water's "The Wall" performance in Berlin in 1990 and being the first ensemble to perform a concert in the Capitol Building in Washington DC. In 2010, their experimental collaborations extended to out of this world, when Paddy Moloney's whistle and Matt Molloy's flute travelled with NASA astronaut, Cady Coleman, to the international space station. Although their early following was purely a folk audience, the range and variation of their music and accompanying musicians quickly captured a much broader audience, elevating their status to the likeness of fellow Irish band, U2. The Chieftains are never afraid to shock purists and push genre boundaries and the trappings of fame have not altered The Chieftains' love of, and loyalty to, their roots however- are as comfortable playing spontaneous Irish sessions as they are headlining a concert at Carnegie Hall.
For tickets or more information, call the State Theatre ticket office at 732-246-SHOW (7469), or visit us online at http://www.StateTheatreNJ.org. The State Theatre ticket office, located at 15 Livingston Ave, New Brunswick NJ, is open Monday through Friday, 10am to 6pm; Saturday 1pm to 5pm; and at least three hours prior to curtain on performance dates unless otherwise specified. For information on group outings and discounts, call 732-247-7200, ext. 517. Some additional ticket and transaction fees may apply.
State Theatre, a premier nonprofit venue for the performing arts and entertainment. The theater exists to enrich people's lives, contribute to a vital urban environment, and build future audiences by presenting the finest performing artists and entertainers and fostering lifetime appreciation for the performing arts through education. The State Theatre's programs are made possible, in part, by funding from the New Jersey State Council on the Arts/Department of State, a Partner Agency of the National Endowment for the Arts, and contributions from numerous corporations, foundations, and individuals. The Heldrich is the official hotel of the State Theatre. Magic 98.3 is the official radio station of the State Theatre. The Star-Ledger is the official newspaper of the State Theatre. United is the official airline of the State Theatre.
STATE THEATRE
15 Livingston Ave
New Brunswick, NJ 08901
Ticket Office - 732-246-SHOW (7469)
Online - http://www.StateTheatreNJ.org
PHOTOS AND INTERVIEWS FURNISHED UPON REQUEST
Please contact Kelly Blithe at
732-247-7200, ext. 542 or by email at kblithe(at)StateTheatreNJ.org.
Up-to-the-minute information on events and State Theatre news,
online at http://www.StateTheatreNJ.org.
# # #